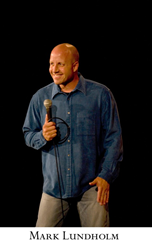 He's not only laugh-out-loud funny, but provides special insight into the world of addiction and the power of recovery and ultimate redemption.
Jacksonville, FL (PRWEB) May 02, 2014
Jacksonville-based addiction treatment center Lakeview Heath invites the general public to a special event at Theatre Jacksonville that will bring laughs while addressing the serious topic of substance abuse. The show stars internationally known comic Mark Lundholm and brings an unexpected dose of humor to the conversation as he takes the timely topic of addiction head-on in his "Perfectly Broken Comedy Show." The event is Lakeview Heath's most recent effort in helping those struggling with addiction to "Find Their True North," defined as the path of rediscovering oneself and life purpose.
The May 10 event will take the audience on a journey from Lundholm's humble beginnings as a homeless criminal and mental patient living on the streets to the world-renowned entertainer he is today. His unique brand of humor has been described as a wild ride through challenges, changes and second chances.
Just out of rehab, while performing a 20-minute comedy routine at San Quentin State Prison, Lundholm discovered that his childhood survival skill of making people laugh was his ticket out. Armed with plenty of fresh material poking fun at the insanity his life had become, Lundholm worked his way up to stardom — literally from the gutter.
"You won't want to miss this opportunity to see Mark Lundholm live," said Gina Thorne, Lakeview's vice president of marketing. "He's not only laugh-out-loud funny, but provides special insight into the world of addiction and the power of recovery and ultimate redemption."
Tickets are available in advance online for $15 or at the door for $20 at:
Theatre Jacksonville
2032 San Marco Blvd.
Jacksonville, FL 32207
For more information or to purchase tickets, visit:
http://www.lakeviewhealth.com/comedy