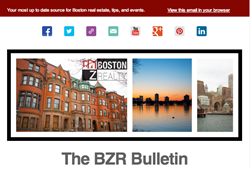 "In addition to information for prospective buyers, sellers, and renters, readers will find other news that we assure they will find valuable"
Boston, MA (PRWEB) May 05, 2014
Boston Z Realty launched the The BZR Bulletin, a new monthly, electronic newsletter designed to keep past clients, prospective clients, and colleagues informed about Boston Z Realty news and activities, as well as local events and industry market statistics.
The BZR Bulletin presents up to date information in a high quality HTML format and will be issued at the end of each month. Regular features will include:
-Market Reports: a column featuring real estate market updates and numbers for the previous month for the Greater Boston area.
-10 Questions: an agent answered FAQ section about a selected topic each month.
-Maintenance at a Glance: a section featuring advice on common maintenance issues for the time of year the newsletter is published.
-Events in and Around Boston: a calendar of events in and around Boston for the month in which the newsletter is published, and
-Dillon's Words- an article featuring a "letter from the heart" from BZR's President and Broker, Dillon Currier.
The BZR Bulletin's interactive format also enables receivers to access the Boston Z Realty website directly in order to submit inquiries, search for homes, or find more information on the company.
"When we were contemplating on what we wanted to include in the newsletter, we decided that we wanted it to be something that everyone can find value in- not just people who are interested in buying or selling a home," said Dillon Currier, President and Broker of Boston Z Realty. "In addition to information for prospective buyers, sellers, and renters, readers will find other news that we assure they will find valuable"
Readers can subscribe to the monthly e-newsletters at no cost. Features from the inaugural issue of the BZR Bulletin can be found on the Boston Z Realty website.
Boston Z Realty was formed in 2012 by Dillon Currier and Wendy Heyman, and focuses primarily on residential home sales and rentals in Boston and the surrounding areas. Their motto, "Leaders with Integrity" is affirmed with their dedicated agents and staff and the superior service, quality, and ethics offered to their clients. For more information about Boston Z Realty, call (617) 262-2224, or visit them at http://www.BostonZRealty.com.