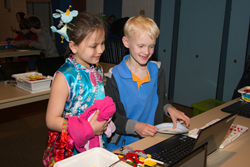 Morristown, NJ (PRWEB) May 04, 2014
Peck's World Cultures Fair: a time when Peck families and faculty come together to eat, to play, to be merry—and to learn more about our families' remarkably diverse backgrounds.
Under the thoughtful leadership of Peck's World Cultures Committee, with its Parent Association chairs Rossana Stevenson and Amber Leach and Lower School Head/Director of Cultural Affairs Nina Sharma, the evening unfolded to a rich and exciting experience celebrating the world and its people.
Families and students tasted (in some cases, literally) highlights representing our families various cultural backgrounds at different activity stations set up in Peck's Old Gym and outdoors on campus. They learned to make candy sushi, explored Lego robotics, played cricket and soccer, made name scrolls and origami, got henna tattoos, watched taekwondo and wood-breaking demonstrations, and then danced the night away with DJ Jude.
The dining hall was replete with a number of dishes illustrating Peck families' backgrounds—circling the globe with everything homemade from tandoori chicken to kielbasa with sauerkraut.
Students also manned a special booth to sell handmade products from students at the Kopila Valley School in Nepal (KVS). The Peck School has a unique, reciprocal relationship with KVS and its founder Maggie Doyne; hosting exchange students and Nepali teachers for professional development, and also sending our own faculty to KVS to help to build curriculum. This link between the two schools and its students is a constant point of inspiration that promotes, for both groups, an active sense of global awareness, understanding, and true friendship.
The Peck School's World Cultures Committee, comprised of parents and faculty, promotes cultural awareness throughout the school year. Along with planned World Cultures assemblies and the World Cultures Fair, the committee also maintains a rotating library display highlighting aspects of various cultures.
To see photos of the evening, click here.
-- - - - - - - - - - - - - -
The Peck School is a co-ed, independent, K-8 day school in Morristown, NJ with a century-old reputation for academic excellence and emphasis on character formation. With a 6:1 student-to-teacher ratio, The Peck School strives to build in each student the capacity for disciplined learning and consideration of others, while preparing students to succeed in secondary school and to lead healthy, productive, and principled lives.
Visit The Peck School's website, or contact our Admission Office at 973-539-8660 x 117.