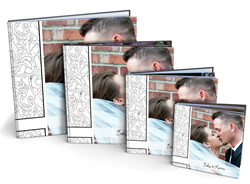 In addition to doubling production time, we've added new features and services, including more options for custom cover books and same day shipping.
New York, NY (PRWEB) May 06, 2014
AdoramaPix Inc., Adorama's in-house print lab and sellers of premium quality lay flat photo books and other photo finishing items, recently began production in its brand new Brooklyn-based facility. More than doubling in size and measuring in at 20,000+ square feet, the move to a larger space allowed AdoramaPix to upgrade its production processes and increase its capacity, resulting in two-times the production turn-around time. Located in the Park Slope neighborhood of Brooklyn at 370 19th Street, the operation brings 70 jobs to the area, which AdoramaPix hopes to increase even more over time.
"The move to a larger facility enables AdoramaPix to multiply our production capacity and has already resulted in several measurable changes," says Herman Klein, director of AdoramaPix. "In addition to doubling production time, we've added new features and services, including more options for custom cover books and same day shipping. With more than two-times the space at our disposal, these are just the first of many new features and items AdoramaPix will offer."
Partnering with the US Postal Service, AdoramaPix has already begun offering its new Metro Post service. The first company in New York City to test out this service, many local customers are already enjoying getting their high-quality prints shipped to them the same day their order is placed. The AdoramaPix Metro Post service is currently available to customers in Manhattan and Brooklyn.
AdoramaPix also recently announced that its custom cover photo books are now available in any even-numbered amount of pages, from 14 to 76 pages. Due to an upgrade in their production process, varied page counts are now available while still retaining the superior quality, durability and presentation. Klein states, "The flexibility afforded by our new variable page counts will give our customers the creative freedom to make whatever photo book they envision into a reality."
The new printing facility will continue to offer its unique and popular products, in particular, its high quality photo books. Unlike binding systems used by many competitors where a sliver of glue at the spine must hold each page in place, AdoramaPix photo books feature a unique binding system called Leporello binding, where the pages are fused together in a way that holds the pages securely for a lifetime. With Leporello binding, the page spreads lay flat and seamless, so you don't lose part of your photos in the gutter. Pages are made with professional grade archival photo paper for brilliant, life-like colors that will stand the test of time.
About AdoramaPix
As the in-house print lab at Adorama, AdoramaPix has been serving the needs of the photographic community for more than fifteen years. Well known for the superior quality of its printing services and excellent customer support, AdoramaPix has become the lab of choice for professional photographers and savvy consumers all over the country.
ADORAMA: More Than a Camera Store
Adorama is more than a camera store – it's one of the world's largest photography, video, imaging and electronics retailers. Serving customers for more than 35 years, Adorama has grown from its flagship NYC store to include the leading online destination for photography, video and consumer electronics. Adorama's vast product offerings encompass home entertainment, mobile computing, and professional video and audio, while its services include an in-house photo lab, AdoramaPix, pro equipment rental at Adorama Rental Company, and the award-winning Adorama Learning Center, which offers free education for photographers in online channels such as the popular Adorama TV.
Adorama is listed as one of the top five electronics retailers by Consumer Reports, "Best of the Web" by Forbes.com, Internet Retailers Top 100, and is the official Electronics Retailer of the NY Giants.
Visit ADORAMA at http://www.adorama.com.