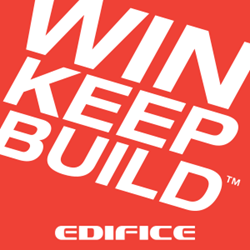 Washington, DC (PRWEB) May 06, 2014
Edifice Group, a digital direct marketing company specializing in conquest and retention programs for the automotive industry, released a statement today expounding on their forward thinking approach to digital marketing.
Edifice has mastered the art of automotive marketing through the use of their unique WKB strategy. The W in WKB stands for "Win." Edifice sets itself apart from other direct marketing firms by specifically targeting "conquest customers," or customers who have previously bought cars from a competing dealer or auto manufacturer. "Winning" these customers is highly valuable to those in the extremely competitive automotive industry, where even one sale can mean all the difference between success and failure, and help dealers to separate themselves from their competitors.
The K in WKB stands for "Keep." Edifice is highly adept not only at obtaining conquest customers, but also in retaining current customers. Edifice helps their clients to establish a consistent message in an industry where customer retention is largely dictated by cost, as well as customer service. While it is impossible to predict when a customer will need service next, Edifice ensures that their clients are at the forefront of their customers minds with their regular targeted direct e-mail communications.
Finally, the B in WBK stands for "Build." This pillar of Edifice's strategy focuses on building relationships with both existing and conquest customers alike. Building a relationship with customers in this way can help with a phenomenon referred to as "internal conquest." An internal conquest occurs when an existing customer upgrades to a premium car model or more comprehensive service package. Maintaining regular, cordial communication with existing customers is key to these kinds of internal conquests, and is something that Edifice Group excels at.
"We are committed to helping our clients succeed through our singular approach to automotive marketing," said a spokesperson from Edifice Group. "We focus on building and maintaining the customer relationships that are the measure of success in the automotive industry. Our approach is unique, cost-effective, and has been proven to be successful time and time again."
For more information on Edifice Group's direct marketing services for the automotive industry, please visit http://www.edificegroup.com.
About Edifice Group
Edifice Group, Inc. is a digital direct marketing company. The company markets directly to individuals/households on behalf of our clients to increase sales and service revenue. Edifice utilizes email, direct mail and live telephone calls to reach prospects. To accomplish this we have developed and executed data acquisition processes, built and maintain multiple networks and databases, created industry leading analytics, built an enterprise email delivery platform and database, became a Microsoft™ partner, an Acxiom™ strategic partner, as well as created online reporting tools. The last seven years have been invested in the people, processes and infrastructure that will support the growth potential of this company.