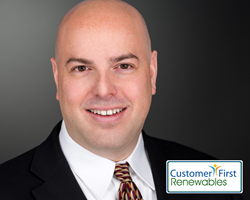 Washington, DC (PRWEB) May 06, 2014
CustomerFirst Renewables (CFR) is pleased to announce and welcome Ed Lieberman as the company's Vice President, Customer Development. Ed will be responsible for all aspects of Sales, Marketing, and Business Development. His role will include leading and developing our commercial team; setting direction for CFR's growth; shepherding new customer opportunities; ensuring a great experience for our customers, investors and the media; and other responsibilities as a member of our senior leadership team.
Ed joined CFR in November 2013 from Bloom Energy, a Silicon Valley, California manufacturer of fuel cells which have been sold and deployed to over 50 large organizations and Fortune 500 companies such as Walmart, Staples, Safeway, eBay, Kaiser Permanente, Caltech and AT&T. Ed was instrumental in the growth of Bloom Energy from 20 to over 1000 employees over the last 8 years. During his tenure, Ed held a number of roles including Product Management, Business Development, Account Management and Sales Leadership. Ed and his team successfully brought a 'new to the world' product to market by approaching the financial and operational executives of some of the world's largest businesses and not-for-profit entities.
Ed comes to CFR with over 18 years of experience in various sales and entrepreneurial organizations focused on energy, cleantech, and renewables. He has held leadership roles at Transcendent Partners, supported fund raising and due diligence in venture capital entities focused on energy and cleantech at Angeleno Group and Shelter Capital Partners, and has evaluated spin off businesses at clean energy technology incubator Aerovironment. Ed's sales experience began at manufacturer's representative Potomac Environment and Power Technologies and his energy career was initiated with a 5 years stretch at Delmarva Power/Conectiv, as they prepared for deregulation in the Mid-Atlantic. Ed holds an MBA from UCLA's Anderson School of Management and a BS in Mechanical Engineering from University of Maryland's Clark School of Engineering.
"I am excited to join CFR's leadership team. I have always been attracted to innovative and disruptive companies, and CFR provides me a great opportunity to help change how businesses and institutions get access to economically attractive large-scale renewables. CFR's focus on putting the customer first and optimizing solutions to their needs turns the supply-driven energy paradigm upside down. It's a perfect fit for my skills and passion."
Gary Farha, CFR's President and CEO states, "We are delighted to welcome Ed to our team. He has a great track record developing strong and substantive customer relationships that will help us better understand market needs and grow our business. In addition, Ed's experience and confidence using innovative product and service offerings to solve challenging energy problems will improve our delivery capabilities and help us identify new ways to serve customers better."