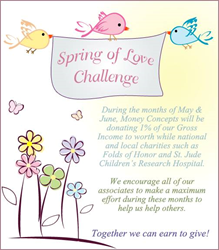 "We make a living by what we get. We make a life by what we give." – Winston Churchill
Palm Beach Gardens, FL (PRWEB) May 04, 2014
Earning to Give
At Money Concepts, we offer clients and customers holistic financial planning and wealth management solutions that empower them to live more enriched lives. In doing so, they are encouraged to pay it forward and enrich the lives of others through charitable giving.
One of the key phrases Founder Jack Walsh stated in Money Concept's formation was that "our education teaches us how to earn a living, not what to do with it." Everyone has their own respective situations and the ability to give or spend as they see fit. Making charitable giving a regular part of a budget can be an empowering teaching tool and justification of what all of us were meant to do in life. By simply showing the reduction of arbitrary or wasteful spending that has no real value, and turning it into a giving stream that saves lives, or helps deliver a life experience can not only change the receiver, but also the giver. It helps bring a perspective into life that is often times lacking.
"If you want to incorporate charitable giving into your financial plan, speak with your financial planner. We are in the business to truly help others, not only from a financial planning perspective, but also to help discover how they can all have a better life, which includes charitable efforts," noted Money Concepts financial advisor John Hathaway.
Money Concepts strives to be a prime example of "earning to give" through its yearly tradition Spring of Love. During May and June Money Concepts allocates 1% of its gross income to various charities like Folds of Honor, St. Jude's Hospital and Make A Wish Foundation. It is Money Concepts mission to help foster and assist charities in the communities where our advisors are. Money Concepts financial advisor Craig Sutherland has supported St. Jude Children's Research Hospital for almost 20 years and has even founded the "Money Concepts Classic," a local charity golf event. John Hathaway helps contribute to Early Childhood Education and Wellness and Cherish the Children, a statewide effort to help children and families in need of financial assistance.
Sutherland adds, "At some point, everyone will face a situation or make a decision on what is most important or meaningful in their life. In that moment, there is a clear realization that you have the ability to change the world. No matter, great or small, you can be a part of something great."
About Money Concepts®:
Money Concepts Capital Corp. is a privately owned independent broker-dealer and dually registered as a Registered Investment Advisor based in Palm Beach Gardens, FL. Established in 1979, and its parent company Money Concepts International, Inc. has a network of approximately 700 financial professional's centers nationwide.
In addition to serving independent advisors, Money Concepts® provides turn-key wealth management services for community banks, credit unions and tax professionals. Money Concepts® advisors provide holistic planning and offer a full array of non-proprietary products and services including advisory and alternative investment services.
For more information, visit http://moneyconcepts.com/advisor and follow us on Facebook, LinkedIn and Twitter.