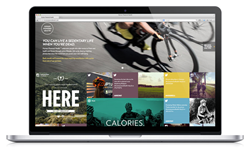 Minneapolis, MN (PRWEB) May 05, 2014
Optum Pro Cycling, one of the top pro cycling teams in the United States, just launched a new part of their four-year initiative to inspire and support people in their quest to live healthy, active lifestyles. Live today, humanpoweredhealth.com. The team integrates social media platforms to become an interactive hub for people to share how they pursue their own "Human Powered Health" goals.
The site, which aims to spotlight parallels between professional cycling and everyday healthy lifestyles launches as part of multi-media campaign including a new new short film, titled "Calories." Any post on Instagram or Twitter using the hashtag #humanpoweredhealth will dynamically integrate into the website's colorful mosaic.
"We created the Human-Powered Health brand as a way to inspire individual accountability in maintaining a healthy lifestyle," says Charles Aaron, managing director of Circuit Sport, the management organization behind the team. "Over the years, the men and women of Optum Pro Cycling have served as fantastic ambassadors of the brand, but this new site is really about everyday people, athletes or not, who practice healthy decision making in their day-to-day lives."
Each month, a contributor will be selected to receive a prize from one of the team's partners. The first giveaway, scheduled May 22nd, offers up either a men's Diamondback Insight II professional racing bike or women's Clarity II to the winner. Circuit Sport will select a new prize partner each month, with SRAM, HED, Park Tool, Borah Teamwear, Proferrin Sport, and others offering contributions.
"Our team reaches a lot of people who love cycling and embrace a healthy lifestyle, but our goal with humanpoweredhealth.com is to provide a forum for people who may need some encouragement and incentive getting on the right track," adds Circuit Sport Creative Director Sam Wiebe. "Human-Powered Health is a simple, powerful concept that we truly believe in. We want people to be creative in sharing how it applies to their everyday lives."
Humanpoweredhealth.com and "Calories" were a collaboration between Circuit Sport's creative team and Solve, the firm's longtime branding agency of record.
Circuit Sport (http://www.circuitsport.com)
CGSM is a national leader in the development and management of national level sport team entities. Based in Minneapolis, Minnesota CGSM currently manages more than 60 professional athletes, training and performance staff, professional cycling mechanics, tour managers and an in-house, full service team of designer, marketing and administrative support staff. CGSM teams compete domestically and internationally, often traveling at the same time.