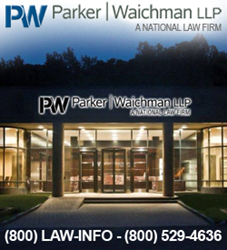 "Whistleblower attorneys have been important in assisting, protecting, and representing whistleblowers in these matters, and ensuring whistleblower anonymity for as long as possible in these cases." states Gary Falkowitz, Esq, of Parker Waichman LLP
Port Washington, NY (PRWEB) May 09, 2014
Parker Waichman, LLP, a national law firm that represents whistleblowers in qui tam cases, which refers to civil lawsuits whistleblowers may bring under the False Claims Act (FCA), also represents whistleblowers who seek to report tax fraud, which is not covered under the FCA. Tax fraud costs the federal government billions of dollars each year, notes The Columbia Law Review. However, the FCA, considered the government's strongest qui tam tool, excludes tax fraud; some states do permit qui tam lawsuits involving potential violations of state tax laws. (November 2013, Issue 7, Notes-Archived, Volume 113)
Qui tam litigation consists of individuals bringing lawsuits involving fraud on behalf of the government, and the IRS does have a whistleblower program in place that awards individuals who bring information concerning tax fraud to the IRS. Tax fraud is covered by the IRS whistleblower program; the state false claims act, which authorizes qui tam for tax; and the New York False Claims Act, all meant to protect taxpayer privacy. However, many experts and law makers are urging the federal government and states to amend their FCAs to enable qui tam lawsuits alleging tax fraud, November 2013, Issue 7, Notes-Archived, Volume 113 [2013]): The Columbia Law Review reports.
In all, the IRS collected some $367 million in fiscal year 2013 based on information received from whistleblowers, the IRS report indicated, according to an April 18, 2014 The Wall Street Journal report.
The IRS offers two whistleblower programs. The original program, which is decades long, provides whistleblower awards of up to 15 percent of the tax collected and applies to those cases in which less than $2 million in tax is collected. In 2006, the IRS' "large award" program was implemented and enables payments of a maximum of 30 percent of collected tax and involves those cases that involve more than $2 million The Wall Street Journal indicated.
The IRS report indicated that it had made a total of nine payments under the large award program and does have open cases based on information provided by 1,320 whistleblowers involving 12,192 taxpayers, according to The Wall Street Journal, which noted that individuals, corporations, trusts, or estates may classify as a whistleblower. A review of current data indicates that the IRS is in early or middle phases of acting on about two-thirds of its whistleblower submissions; one-third are closer to the end of the process and about three awards are expected in the near future. IRS whistleblowers are usually individuals or entities that are aware of tax fraud by a firm or person who is intentionally committing tax fraud by underreporting or omitting tax income. Other fraud includes overstating deductions, abusing deductions to charities, abusing or misusing trusts, claiming false tax credits, claiming false tax deductions, not reporting investment income, or hiding income assets.
There are moves to simplify and ease the tax fraud whistleblower process and reduce the current backlog. For example, the just-issued IRS report contains recommendations, according to an April 6, 2014 RT.com report. Also, Senator Charles Grassley (Republican-Iowa), co-author of the 1989 Whistleblower Protection Act, is working to enact laws to increase whistleblower protections. "Whistleblowers are often treated like skunks at a picnic," the senator said. "It takes guts to put your career on the line to expose waste and fraud." One of the steps taken by the senator includes his having written to President Obama seeking a federal ban on those federal agencies that deem jobs "non-critical sensitive" as a way in which to silence whistleblowers, according to an April 10, 2014, The Washington Post report. The good news, according to an April 7, 2014 Reuters report, is that new whistleblower submissions are up with 355 in 2013 from 332 in 2012, the IRS report indicated.
The IRS maintains whistleblower confidentiality during the initial investigation phase; however, if testimony is required in a judicial proceeding, whistleblower identity may be revealed. Because some federal and local laws may provide tax fraud whistleblowers with protection, whistleblowers typically seek legal assistance to best understand their rights and protections.
"Whistleblowers are significant and necessary in assisting the federal government in the recovery of billions of dollars that are illegally being withheld from the government. This fraudulent behavior results in harm to our citizens due to a lack of funding to critical programs and activities," said Gary Falkowitz, Managing Attorney at Parker Waichman. "Whistleblower attorneys have been important in assisting, protecting, and representing whistleblowers in these matters, and ensuring whistleblower anonymity for as long as possible in these cases."
Parker Waichman LLP supports efforts to protect whistleblowers and offers free legal evaluations to those individuals who believe their companies may be involved in wrongdoings. If you believe that a company is committing fraudulent activities against the federal government and would like our assistance, we encourage you to contact us at the firm's Whistleblower page at yourlawyer.com or call 1-800-LAW-INFO (1-800-529-4636).