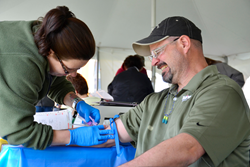 We're excited to take the next step in improving the health and wellness of our team members.
Gratz, PA (PRWEB) May 02, 2014
As a precursor to an up-and-coming health and wellness program, "Your Window to Wellness," a three day health fair event was held at MI Windows and Doors' Pennsylvania locations, targeting team members in both manufacturing facilities, the customer support center, and the vinyl extrusion plant. The first year program proved to be a huge success with over 500 team members participating in the event and gaining knowledge about healthy living, healthy work practices, and fitness programs available in the Susquehanna valley. Blood and blood pressure screenings were offered at a discounted rate to all employees. Additionally, more than 100 individuals committed to the tobacco cessation program, helping MIWD take the first step in becoming a tobacco free workplace.
Tifini Clemens, Human Resources Administrator at MIWD's ProPlastix vinyl extrusion plant, organized the event. "It's great to see the excitement and enthusiasm from our team members," stated Clemens. "We're excited to take the next step in improving the health and wellness of our team members. Thank you to everyone involved – I am so proud of our team!"
Vendor participants included the Elizabethville YMCA and the Department of Health Tobacco Program, Highmark, MetLife, Aerotek, Primerica, Phoenix Rehabilitation, and Workplace Occupational Health. Each vendor provided services, shared valuable information with team members, and invited them to participate in door prize drawings, games, and discounted services and memberships. "We're already looking forward to our next health event," claimed Clemens. "Health and wellness has taken a front seat for our nation - it's time for it to take front seat at MIWD as well."
About MIWD
Founded in 1947, MI Windows and Doors is one of the nation's largest suppliers of energy efficient vinyl, aluminum, and composite windows and doors. With plants across the country, MIWD offers a broad spectrum of windows and doors backed by exemplary customer service. The company's character, integrity, and commitment are exemplified by the people that represent it nationwide. For more information about MIWD, visit http://www.miwd.com.