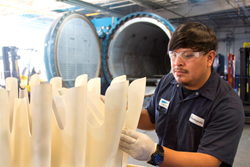 Covina, CA (PRWEB) May 06, 2014
Composites Horizons, LLC (CHI), a division of AIP Aerospace, is pleased to announce the creation of a Ceramic Matrix Composite facility adjacent to its existing Polymer Matrix Composite (PMC) facilities in Covina, CA. The 35,000 square foot building will be dedicated to the manufacturing of sophisticated oxide ceramic matrix composites (OX/OX CMC's).
CHI is also pleased to announce that they have been selected by GE Aviation as a supplier of components for an OX/OX CMC exhaust system for a key business aircraft engine program. This award represents the largest contract in CHI's 30-year history. High temperature CMC's enable manufacturers to reduce engine weight and improve efficiency.
Included with CHI's expansion is an $11 million investment in new equipment and processes for all four existing facilities. The new facility will house a 4,000 square feet clean room with a dedicated ply cutter, laser projection and a team of personnel trained in oxide ceramic production. The new facility will also include a 15,000 square feet assembly area and a sintering furnace with 8 cubic feet capacity and 2500oF temperature capability. Ultimately, the building will include two dedicated autoclaves, an additional production sintering furnace, a smaller development furnace, 5-axis CMC machining centers, quality inspection capability for CMC products, and house the company's executive offices.
Also included in the expansion are three 5 axis CMC mills to be added to current machining capabilities and a new high temperature 12' x 25' autoclave installed adjacent to its current 10' x 20' 800oF autoclave in the high temperature PMC lay-up building.
About Composites Horizons
CHI is a specialty manufacturer of high temperature composites used in the gas turbine engine and nacelle industry. Over the past five years, the company has grown significantly with a current backlog in excess of $330M and is planning for added expansion in new CMC products as well as its traditional carbon fiber Polyimide and carbon fiber Bismaleimide (BMI) parts for aero engines.
Currently, CHI parts can be found on major military and commercial programs including the F-35, F-18, F-16, C-17, B787, B777, A-350, A-380 and Predator C. CHI parts will also be included on the A320neo, B737MAX, Global 7000/8000, and on Rolls-Royce's new BR700NG business jet engine.
For more information on Composite Horizons, visit http://www.chi-covina.com.
About AIP Aerospace
AIP Aerospace is one of the largest independent aerospace tooling group providers and suppliers of high temperature composite parts, critical components, aircraft structures, transparencies, and coating technologies. Our strategically aligned Tooling Group and Aerostructures and composites companies harness the unrivaled expertise of our dedicated industry professionals and state-of-the-art facilities across the US. Visit http://www.aipaerospace.com for more information.
Important Note:
This press release contains statements on future developments that are based on currently available information. It involves risks and uncertainties that could lead to actual results deviating from these forward-looking statements. The statements on future developments are not to be understood as guarantees. Forward-looking information is subject to certain risks, trends and uncertainties that could cause actual results to differ materially from those projected. Among those factors are: changes in budgetary policies and product sourcing strategies; the company's competitive environment; the terms and timing of awards and contracts; and economic conditions. Composites Horizons undertakes no obligation to update any forward-looking statements.