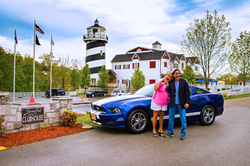 Branson, MO (PRWEB) May 02, 2014
Summerwinds Resort Services, LLC. recently awarded Mrs. Judy Sisson of Russellville, Arkansas her choice of Ford vehicles with a value up to $30,000. Mrs. Sisson, an educator and native of Arkansas, was chosen at random from approximately 500,000 entries as the Grand Prize Winner. She chose a new Ford Escape, which will be a great vehicle for hauling around her grandchildren!
"It is my pleasure to award the Grand Prize to Mrs. Sisson," stated Mr. Pat Joyce, President and CEO. "The Summerwinds team travels the country every year attending hundreds of exhibitions and special events. Thousands of families will visit Branson each year on our vacation packages and our efforts tremendously contribute to the success of the Branson tourism industry. It gives me a real sense of satisfaction whenever we award the Grand Prize, because it represents the culmination of so much hard work by our team of valued employees."
Summerwinds Resort Services, LLC operates and sells boutique themed resorts in Branson, MO and Genoa, NV. Stormy Point Village, located in Branson, is an enchanting resort that is styled after a timeless Cape Cod fishing village, located on Table Rock Lake. 1862 David Walley's Hot Springs Resort & Spa harkens back to the Pony Express days, as a rustic mining town with a historical themed clubhouse and nestled between native wetlands famous for its Bald Eagle sightings and the foothills of the Sierra Nevada. The Summerwinds team consists of over 500 employees working in five states with one common goal: delivering a lifetime of exceptional vacation experiences to the owners in our resorts.
You can register for the 2015 giveaway online. Visit http://www.choosebranson.com for details.