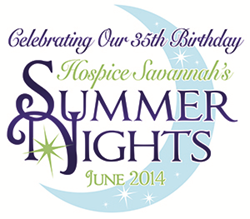 Savannah, GA (PRWEB) May 02, 2014
Hospice Savannah is asking friends and supporters to celebrate its 35th year of serving the community by hosting a "Summer Nights" fundraising party during its birthday month of June.
Established in June 1979, not-for-profit Hospice Savannah freely offers palliative and hospice care to residents in five counties of the Coastal Empire. Proceeds from "Summer Nights" parties will support the Daily Impact Fund – making a difference each and every day by providing free bereavement counseling to any child, teen or adult; an overnight children's grief camp; complementary therapies of music, story keeping and massage; a We Honor Veterans initiative; Palliative Care clinics in both local hospital systems; and Pet Peace of Mind® enabling patients and their beloved pets to stay together.
The Hospice Savannah Foundation will make it as easy and fun as possible to host a party of any size or format during the birthday month of June. Invitations and donation cards will be provided for guests, and each host receives a birthday cake courtesy of Joe's Homemade Café.
There is a wine and cheese planning meeting for hosts on Thursday, May 15 at 5:30 p.m. at Hospice House. Full details can be found at http://www.HospiceSavannah.org/SummerNights or call Ophelia Rodriguez at 912-629-1027. And obviously, donations in lieu of parties will be gladly accepted!
Those interested in learning more about the volunteers who founded this grassroots community-based organization in 1979 should check out this video: https://www.youtube.com/watch?v=D0NgyWgoi1A.
<br>About the company:<br>Hospice Savannah, Inc., a not-for-profit organization, provides the community with the best services and resources for living with a life-limiting illness, dying, death, grief and loss. Hospice Savannah exists to help lift the burden of worry when people receive or a loved one receives a life limiting diagnosis. Together, more than 250 volunteers and more than 200 full- and part-time staff members are committed to fulfilling the mission of Hospice Savannah. For more information, call 912-355-2289 or visit their website.