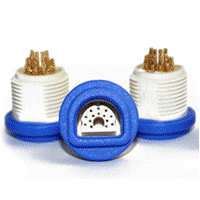 PulseOne was created using voice-of-the-customer from both medical and industrial markets.
Brockton, Massachusetts (PRWEB) May 05, 2014
Amphenol Alden further expands its product family with the introduction of the PulseOne connection system. The PulseOne overmolded plug cable assembly and receptacle is designed to meet the growing need for human-worn and disposable high-performance connection systems. Its ergonomic shape, environmental sealing features, and low cost option make PulseOne ideal for both physiological monitoring and instrumentation.
"PulseOne was created using voice-of-the-customer from both medical and industrial markets", says Gordon Udall, Marketing Manager, Amphenol Alden. "The 4 to 14-circuit configurations, with d-shape for easy "blind-mate", multiple keying, and easy snap connect/disconnect deliver on our promise to those customers looking for the perfect connector option in their markets. Overmolding of the plug to a standard cable allows us to achieve environmental sealing up to IP-X7 and serve a wide variety of applications."
The simplicity of PulseOne makes this cable assembly the right choice for single-use applications as well. By selecting the "Limited-Use" option, customers get great performance at the right price for single-use applications. The "Multiple Use" option will continue to perform for over 5,000 mating cycles. Standard versions include the in-line plug cable assembly, in-line receptacle cable assemblies and panel-mount receptacle. PulseOne is EtO and Sterrad sterilizable.
Amphenol Alden manufacturing facilities are ISO 13485:2003 and ISO 9001:2003 certified. For more information about the PulseOne connection system, and to download a datasheet, please visit Amphenol Alden at: http://www.amphenolalden.com/pulseone.
ABOUT AMPHENOL ALDEN
Amphenol Alden Products is a division of Amphenol Corporation, one of the largest manufacturers of interconnect product in the world. No other interconnect manufacturer combines their special knowledge, collaborative engineering expertise, and the power of Amphenol's global manufacturing with facilities in Brockton MA, Hermosillo Mexico, and Shenzhen China.