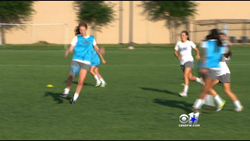 Richardson, TX (PRWEB) May 05, 2014
Social media reaction toward the Dallas-based girl's youth soccer team's, Sting Soccer, part in the KTVT-TV's (CBS affiliate) Girls' Soccer Club Looking For 'Bossy' Players, Doesn't Mind Word, has been overwhelming according to Brent Coralli, CEO of Sting Soccer.
Coralli, who also was part of the segment, believes the increases the Sting Soccer social platforms – including Facebook and Twitter – have seen in shares, likes, comments and retweets, illustrates the underlying theme of the piece: the importance of girls believing in themselves.
"We don't have time for name calling or unwanted labels," Coralli said. "We spend our time at Sting living the idea of 'Education of Life Through Soccer' and the associated values of Pride; Tradition; Character; Commitment and Leadership."
As an athlete, father of three children and CEO of Sting Soccer, Coralli has heard and seen first-hand what name calling and labeling can do. It may occur in the heat of the moment, to get a teammate psyched-up, or wanting to rattle an opponent. It may also be a way to just categorize someone and move on--not spending the time and effort necessary to better understand the individual and his/her motivations.
According to Coralli, the reaction to the KTVT-TV segment goes beyond shares, likes and comments. "Our coaches have spoken to our players about the piece and we've received many positive phone calls and emails from parents and fans of Sting Soccer," Coralli said.
Sting girls have a rigorous schedule on and off the field--whether it is practicing two to three times a week, traveling to games throughout the country, keeping up their grades and participating in community service--that is netting real results. This year alone players have received, in many instances, full ride scholarships to colleges such as Kentucky, A&M, UT, Notre Dame and many others.
As CEO of Sting Soccer, Coralli is well-aware of his responsibility and opportunity to better the lives of young girls. "I'm very proud and humbled to say our girls do the right thing on and off the field and have the confidence and self-awareness within themselves to embrace and love who they are--we know we cannot control what others say or do toward us," Coralli said.
About Sting Soccer
The Sting soccer club has been dedicated to Women's Soccer since 1973. As the longest running and one of the strongest female clubs in the nation, the legacy of The Sting Soccer Club is built on the following mission: To support through our coaching, administration, and player policies the idea of The Education of Life Through Soccer. Teaching the importance of having a strong moral foundation and building strong young females in a way that is conducive to player development and advancement. The pillars of this foundation are rooted in the following key areas of development: Pride, Tradition, Character, Commitment and Leadership.