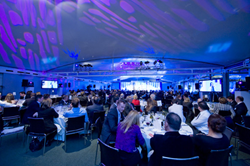 The AP Media Agency is a welcome addition to the Dessler group and we are happy to be one big family now
Beverly Hills, CA (PRWEB) May 02, 2014
AP Media Agency announced Friday, their long awaited merger with the international public relations firm, Dessler Media. The official announcement was made during AP Media Agency's 20th anniversary gala celebration at the Beverly Hill Hotel.
The merger announcement was made by AP Media Agency's CEO, Miles Kooper as he welcomed Dessler Media's founder and president Willem dessler on to the stage. "The AP Media Agency is a welcome addition to the Dessler group and we are happy to be one big family now", said Willem Dessler as he toasted the crowd.
AP Media Agency will continue to operate under the same name however they will now have branch offices throughout the entire Dessler Media footprint including, London, Cape Town, Hong Kong and Mexico City. AP Media Agency will now also offer the full services of the other Dessler Media properties including Reputation Redo, On Call News and Dessler Media's online public relations division.
It was also announced that AP Media Agency CEO Miles Kooper will be hand picking four executives from AP Media Agency's current staff to relocate and lead the the new AP Media Agency offices in London, Cape Town, Hong Kong and Mexico City.
The festivities ended with Dessler Media president, Willem Dessler presenting an Andy Warhol Campbell's Soup Can print from his collection to AP Media Agency CEO Miles Kooper to hang in their California headquarters.
AP Media Agency has been a leader in online marketing since the birth of the internet. They are based in Southern California and at http://apmediaagency.com/
Dessler Media is regarded as the pioneer in online public relations and political crisis management with offices on every continent and at http://desslermedia.com/ .