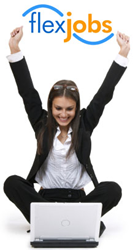 Boulder, CO (PRWEB) May 07, 2014
In celebration of Mother's Day, FlexJobs kicks off "100 Days of Jobs for Moms," a free campaign to help mothers at all stages of their careers find jobs that are more family friendly. For 100 days, FlexJobs will provide dedicated job search articles, expert tips, and industry insight on its blog for mothers looking to re-enter the workforce, as well as mothers currently in the workforce but wanting or needing more work flexibility.
"Mothers have historically been one of the most highly educated and under-utilized job candidate pools, with millions of women leaving the workforce because they are unable to find professional career options that offer flexible work arrangements—such as telecommuting options, part-time hours, or flexible schedules—to support their goals of both staying on their career path and being the mothers they want to be," says FlexJobs founder and CEO, Sara Sutton Fell. "But flexible work options have been growing dramatically—with a 118 percent increase in telecommuting jobs in the past year alone—and we want to help mothers realize that there are more career options for them now than ever before."
Sheryl Sandberg's book 'Lean In' highlighted that 43 percent of highly qualified women with children leave their careers or off-ramp, and it's been reported that only 40 percent of them come back full-time, with most opting for part-time.[ Pew Research supports this by showing that 47 percent of mothers say that their ideal work situation would be to have a part-time work schedule. And in a recent survey on FlexJobs, 82 percent of parents with young children said that having a flexible job is really important.
The 100 Days of Jobs for Moms event is free and will include opportunities for giveaways and expert job search support.
"From Mother's Day through when the kids go back to school, we want to help moms find and land professional, flexible work," said Sutton Fell. "Our goal with 100 Days of Jobs for Moms is to inspire and empower moms to ramp up their job search and find flexible employment. It's not only for moms who want back in the workforce, but also for the employers who need their talents! We hope to use this concentrated 100 days to show moms all of the great options available to them."
The event will include expert job search articles, featured mom-friendly jobs, and webinars and guest blog posts with career experts, including Rachael Ellison, Executive Coach and Work-Life Advocate, Maureen Crawford Hentz, Nationally Recognized Recruiting Expert, Stacy Boegem of TheHappinessAgenda.com, MotherCoders, Joshua Waldman of Career Enlightenment and Joseph Terach of Resume Deli. The topics will include mom-specific advice and actionable tips for every aspect of the job search, from job applications through salary negotiations.
For more information on this program, visit: http://www.flexjobs.com/blog/category/the-benefits/jobs-for-moms-the-benefits/
About FlexJobs
FlexJobs is the leading online service for professionals seeking telecommuting, flexible schedule, part-time, and freelance jobs. With job listings in over 50 career categories and opportunities ranging from entry-level to executive, freelance to full-time, FlexJobs offers job seekers a safe, easy, and efficient way to find professional and legitimate flexible job listings. Having helped over a half million people in their job searches, FlexJobs has been featured on CNN, the Wall Street Journal, Forbes, and Good Morning America, among hundreds of other trusted media outlets and is a proud partner in the 1 Million for Work Flexibility initiative.