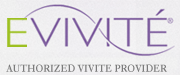 (PRWEB) May 08, 2014
Mother's Day is a time to celebrate the special ladies in our lives and for moms to treat themselves to a little something extra. eVivite.com has announced that they will be offering a Mother's Day special that helps new and returning customers pamper themselves wherever they are on the holiday.
For Mother's Day eVivite.com will be giving away a Free VIVITÉ® Core System Travel Kit with all orders of $100 or more. The Mother's Day special offer begins on May 8th and runs until May 11th, 2014. Any purchase made during that time is eligible for the free travel kit, and no coupon code is required. The special Mother's Day gift is offered in addition to the free sample gift that comes with all purchases or the free full size VIVITÉ® product that is included on a $200 purchase.
The VIVITÉ® Core System Travel Kit is a smaller, more portable version of the highly popular full size system of the same name. The Core System consists of four products that work together to enhance the overall benefits and results.
The four products included in the Free Mother's Day gift include:

VIVITÉ® Daily Antioxidant Facial Serum
VIVITÉ® Night Renewal Facial Cream
VIVITÉ® Revitalizing Eye Cream
VIVITÉ® Exfoliating Facial Cleanser
Each of the products in the VIVITÉ® Core System Travel Kit meet the travel carry on requirements set by the TSA. The system starts with the VIVITÉ® Exfoliating Facial Cleaner, which rids the skin of dirt and build up. This is followed by the VIVITÉ® Daily Antioxidant Facial Serum, which delivers a powerful combination of antioxidants and glycolics for anti-aging and hydration. The final steps are the application of the VIVITÉ® Night Renewal Facial Cream and Revitalizing Eye Cream to repair skin tissue, correct dark circles, smooth out fine lines and more.
To get the Mother's Day free gift with a VIVITÉ® purchase, please visit: http://www.evivite.com
About EVIVITÉ®.com
eVivite.com was created to provide consumers with a more affordable and efficient way to purchase authentic VIVITÉ® products. The company has created a process that eliminates the unnecessary logistical and storage costs, allowing customers to purchase directly from the warehouse at prices 30%-50% below retail. With eVivite.com, consumers no longer have to visit a doctor's office in order to obtain their VIVITÉ® products.
eVivite.com is a sister site to LatisseDoctor.com, a site which has been successfully selling Latisse (another Allergan product) since 2011. Both eVivite.com and LatisseDoctor.com are subsidiaries of Allied Medical & Diagnostic Services, LLC