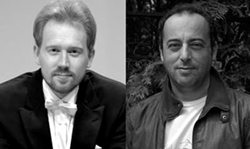 Saint Paul, MN (PRWEB) May 02, 2014
The Saint Paul Conservatory of Music is excited to announce their May schedule of events. SPCM is committed to providing music education for all ages and is ready to show off what their students have learned this year. They will be featuring a variety of musical talents in several upcoming events.
Sunday, May 4 and Saturday May 17, SPCM students will show off their skills in recitals at McNally Smith Auditorium starting at 1:30 p.m. The venue is located at 19th Exchange Street, with the entrance near Cedar Avenue. The event is free to attend.
Join us for on Wednesday, May 7 for Piano Duos, the final concert of the 2013-2014 Coffee Concert series, featuring pianists Ivan Konev and Oleg Levin. The concert includes piano pieces such as Dave Brubeck's "Points on Jazz" and William Bolcom's "The Garden of Eden," among others. The free event takes place from noon-1 p.m. at the Sundin Music Hall at Hamline University located at 1531 Hewitt Ave, St. Paul, MN 55104.
The SPCM will be hosting their summer open house from 4-6 p.m. on Tuesday, May 13. They encourage those interested in summer music camps or anyone who wishes to bring more music into their life http://www.thespcm.org to stop by.
Suzuki group recitals will be on Saturday, May 17. The event will feature Suzuki students performing group repertoire and solo recitals. It will take place from 1:30-3 p.m. at the Sundin Music Hall at Hamline University and is free to attend.
For more information about the SPCM's upcoming events, call 651-224-2205 or visit their website at http://www.thespcm.org/.
About the company: The Saint Paul Conservatory of Music is a music education center offering a wide range of musical instruction for all ages, in both individual and group settings. The faculty is of the highest caliber, including artists/teachers with well-established reputations. The Conservatory has systematically developed a music program with demanding, yet age-appropriate expectations, with the ability to effectively teach the youngest of students as well as prepare those seeking to become music majors. They are also able to meet the needs of students who are lifelong learners of music and music appreciation.
Since 1985, the Saint Paul Conservatory of Music has provided high quality music education to the metropolitan community. Originally under the auspices of The University of St. Thomas, the school became an independent non-profit community music school in June 2001. The facility in downtown Saint Paul provides an exciting venue for the continuing commitment to providing excellence in music for all ages. As an independent organization, they are able to broaden their mission as a music school ensuring that quality music is available to an ever-widening segment of the community.