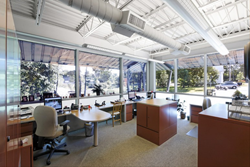 We're very proud of our place within the community of movers.
Los Angeles, CA (PRWEB) May 03, 2014
When offices pack up and move locations, one thing remains certain: Employees, no matter how well trained or what their expertise, turn into movers themselves. The Commercial Movers is a company which constantly strives to reduce and eliminate unnecessary burdens on businesses whose professions lie outside of the moving industry.
Tom Pinkus, a company spokesperson, suggests that the company is so successful because they put the satisfaction of their own employees and the employees of the other businesses ahead of anything else. "We make sure that the employees of a relocating company aren't tasked with unnecessary labor. We offer several business moving services that are provided by few other companies, and these help us remain a step ahead of the competition. We're very proud of our place within the community of movers."
For instance, employees who work for The Commercial Movers are highly trained, professional, and experienced. Few are hired who don't already have years of experience. On top of that, they're aptitude tested so that they can be assigned tasks that they're most suited to complete. This allows workers to work through assignments faster and with more precision than competing moving companies, and it makes clients more likely to use the offered packing services, a task which they sometimes choose to do themselves.
Packing specialists are trained to expertly assemble or disassemble furniture or other items which are too large or bulky to be transported as-is. Should clients have questions about the moving process or have scheduling concerns, a team of consultants is available around the clock to provide detailed information about what to expect or how to change dates or services once underway. Among all commercial office movers, customers rank The Commercial Movers above competitors because of their ability to stay informed through the knowledgeable staff.
In the event that specialized services are not required, The Commercial Movers can send a single consultant or training specialist to ensure that a client's employees are doing the best packing job possible, and at an affordable rate. The Commercial Movers also offer convenient storage facilities, IT relocation services, and all the necessary equipment to ensure safety and success in any moving situation.
For more information on various services provided by The Commercial Movers, head over to http://thecommercialmovers.com/. There, you'll find details on how the company functions, how it interacts with clients and communities, and how its employees provide the best service.
Press Contact
Tom Pinkus
The Commercial Movers
(424) 238-2070