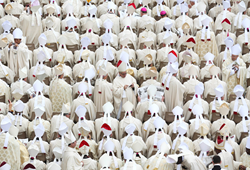 Fr. Rosado and his group were being crushed by the crowds by 7 a.m.
Goshen, NY (PRWEB) May 05, 2014
Tekton Ministries reports that their pilgrims to Italy have returned safe and sound but exhausted from the crowds in Rome for the canonization of John Paul II and John XXIII.
"It was nice to see many people gathered to have an encounter with Jesus," said Fr. Adaly Rosado, a Catholic priest who led 19 Catholic pilgrims to Italy.
It may have been nice but it was also very crowded. The AP reported on April 26 that "about 1 million pilgrims" were expected to flood the streets of Rome by Saturday. Photos from the canonization found on Google Images seem to support those prior projections.
Despite leaving their hotel at 4 a.m., Fr. Rosado and his group were being crushed by the crowds by 7 a.m., two hours before the canonization proceedings were to begin. The AP reported in the same article that many could be found sleeping just outside the gates on the night before the canonization, hoping to get a better spot.
According to Tekton Ministries pilgrimage director Richard Sontag, Fr. Rosado's group spent the days leading up to the canonization in Assisi and the surrounding areas. "We knew Rome would be crowded, so we wanted to give our pilgrims the chance to experience the peace and quiet that Assisi, Siena and Lanciano have to offer."
Members of the pilgrimage group, who witnessed an historic event with the canonization of two former popes in the same ceremony, completed their pilgrimage in the days following the canonization and returned to the United States on April 30.
Asked what one of his most memorable moments was during his pilgrimage, Fr. Rosado said, "Celebrating Mass at the altar at which the Eucharistic Miracle of Lanciano occurred. It was an awesome experience."
Fr. Rosado plans to return to Italy next year with Tekton Ministries to lead a pilgrimage through northern Italy including the cities of Milan and Turin.
For more information about Tekton Ministries and the pilgrimages it provides, please visit their website at http://www.tektonministries.org.