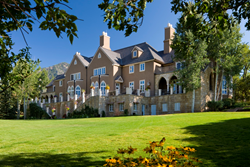 Pompano Beach, FL (PRWEB) May 07, 2014
This week, TopTenRealEstateDeals takes a look at Joe Cocker's European-looking Colorado home he calls "Mad Dog Ranch" for sale at $7 million.
Also, J-Lo's former Miami Beach mansion that looks like old Florida with views of Biscayne Bay and the Miami skyline is for sale, priced at $40 million.
"Joe Cocker's Mad Dog Ranch"
Now, more than fifty years since his first recording, British-born rock and blues legend, Joe Cocker, is off the rock 'n roll tour, taking a break. And why not? Cocker's herky-jerky singing style and unique renditions of "When a Man Loves a Woman," "With a Little Help from My Friends," from his Woodstock days, the popular stripper song, "You Can Leave Your Hat On" that Kim Basinger stripped to in "9 ½ Weeks," and the song that was his only number one hit, "Up Where We Belong," the theme song from "An Officer and a Gentleman," are why "Rolling Stone" listed him as one of the 100 greatest singers of all time.
In 1992, Cocker and his wife, Pam, bought a 240-acre tract of land in Crawford, Colorado. They built, not the usual ranch house, but instead an English country manor that would remind the ex-pat of his roots in Sheffield, England. He missed the gardens of the English countryside and remembered his father raising tomatoes from seed, which had always fascinated him. Here on this acreage he would be able to return to the joys of gardening between singing tours. Joe called his new home,"Mad Dog Ranch," from his 1970's "Mad Dogs and Englishmen" tour. For the twenty years they have lived at the ranch, Joe has grown prize-winning tomatoes with seeds collected from around the world and has developed five acres of vegetable gardens as well as the English flower gardens he so loved.
Joe and Pam Cocker have now decided to sell Mad Dog Ranch and build a smaller home on land they own across the road. They have also purchased a condo in Denver at the Four Seasons Residences to divide their time between country and city life and to generally downsize.
The home at 15,873 square feet definitely has the appeal of a grand European manor estate and includes seven bedrooms, ten bathrooms, chefs kitchen, library, sun room, music room (of course), and large terrace overlooking the gardens and West Elk Mountains. Serious or hobby gardeners will be thrilled with the five acres of productive gardens that include raised beds, two greenhouses and perennial flower gardens that will provide armloads of bouquets for the house.
Singing icon Joe Cocker's Colorado Mad Dog Ranch is priced at $7 million, or with furnishings and equipment, at $7.85 million.
"J-Lo's Old Florida Mansion"
People talk a lot about old Hollywood glamour, but there is also old Miami glamour. When Miami Beach was first being developed in the 1920s and the Causeway Islands were being created, the rich and famous were building their winter mansions around the edge of Biscayne Bay with a view of the then meager skyline of Miami in the distance and the sunset across the water. Grounds and gardens were on large lots and the architecture was Spanish with open covered terraces with columns and archways and tall palms leaning toward the direction of the ocean breeze.
In 1924, the La Gorce Country Club was constructed, so another series of mansions circled around the golf course. The neighborhood was well located near the shopping and nightlife that promised an elegant night out or a day on the beach. Entertaining was done often on terraces under the moonlight, adding tropical magic to dinner parties and dances. La Gorce was where many of golf's legends played such as Ben Hogan and Sam Snead.
Once owned by Jennifer Lopez, the waterfront mansion is classic old Florida, when the living was laid back and easy. It's majestic and Spanish with large grounds, pool and spa overlooking the bay, koi pond, gardens and the tall swaying palms that emphasize the tropical paradise vibe. Measuring in at 12,183 square feet, the home has seven bedrooms and thirteen baths. It also has a stunning curved stairwell in the foyer with wrought iron bannister, theater and a wine cellar.
J-Lo's former Miami Beach mansion with boat dock overlooking Biscayne Bay and the Miami skyline is priced at $40 million.
Real estate is never boring at TopTenRealEstateDeals. Check out today's most entertaining and unusual real estate news stories of the week. News such as "Evil New York Skyscrapers," "Future U.S. Ghost Towns," and "World's Most Haunted Island Going to Auction."