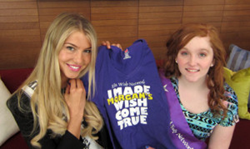 "I really felt like Lexi wanted to be my friend; she is someone I can look up to," recalls Morgan. "She made my wish extra special. Thanks Kids Wish Network for making me feel like the star of Schaumburg."
Holiday, FL (PRWEB) May 05, 2014
When 15-year-old Morgan Miller asked to have a wish granted by Kids Wish Network, it was for a special shopping spree. But when the Florida-based children's charity heard Morgan's story, we knew it needed to be something more. Since Morgan is into pageantry, Kids Wish Network went above and beyond to connect with Miss Illinois USA 2014 Lexi Atkins as an extravagant extra for her wish.
Four years ago, Morgan began experiencing dizzy spells, migraines and digestion problems. Doctors scheduled her for a routine colonoscopy, but Morgan passed out before the procedure and was rushed to the E.R. where a tumor was discovered in her brain. The inoperable mass, removing it could cause her to go blind, is preventing fluid from draining, commonly diagnosed as hydrocephalus. In May of 2011, doctors placed a shunt in the young girl's brain to help drain the fluid and relieve pressure.
When Morgan's headaches start getting worse two years ago, she was again rushed her to the emergency room where medics spent a harrowing 25 minutes trying to revive the brave girl. She emerged with two collapsed lungs and the determination to fight even harder against her diagnosis.
Morgan is currently her class president, maintains a high grade point average, participates in pageants, acting and cheerleading, and manages it all with her life-threatening illness. For the first part of Morgan's wish, Kids Wish Network sent her on an amazing shopping spree at Woodfield Mall in Schaumburg, IL. She gathered new clothes, got great makeup tips and enjoyed a fun-filled day where she was the star. Next, Kids Wish Network introduced Morgan to Lexi Atkins, Miss Illinois USA 2014. The pair dined together and bonded over clothes, pageants, and life.
"I really felt like Lexi wanted to be my friend; she is someone I can look up to," recalls Morgan. "She made my wish extra special. Thanks Kids Wish Network for making me feel like the star of Schaumburg."
Thanks to all the amazing sponsors that help grant Morgan's shopping spree and pageant queen wish: Renaissance Schaumburg Convention Center Hotel, Woodfield Mall, American Eagle Outfitters, The Limited, Charlotte Russe, Sketchers, Finish Line, The Buckle, dELIAs, PacSun, Zumiez, FYE- For Your Entertainment, Lush, Bath & Body Works, Sam and Harry's, Rainforest Café, Exquisite Limousine Chicago, and Miss Illinois USA Lexi Atkins.
Kids Wish Network is a Florida-based charitable organization dedicated to infusing hope, creating happy memories, and improving the quality of life for children having experience life-altering situations. Come experience the Kids Wish Network difference at http://www.kidswishnetwork.org.