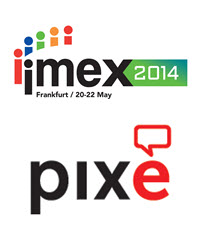 As a key sponsor of IMEX, Pixe is providing the official IMEX 2014 Photo Booth at this internationally recognized event and meeting organizers industry event.
Columbia, MD (PRWEB) May 05, 2014
The Maryland, USA based software company, Pixe LLC, will be showcasing Pixe Social, the leading mobile photo booth-based social marketing solution, in Stand C720 at IMEX 2014 in Frankfurt, Germany between 20 – 22 May 2014.
Winner of the Buyers Choice Award at the recently concluded EXHIBITOR 2014, Pixe Social integrates on-site fan engagement with extended viral reach on leading social media sites. Photos shared from the Pixe-powered mobile photo booths post in real time to Facebook and Twitter and prominently display the brand's logo and hashtags. This innovative mobile technology gives brands the opportunity to engage loyal customers and show testimonials from them to significantly boost their viral reach in just a few days.
At EXHIBITOR 2014, Pixe Social extended the event's reach to over 28,000 people on Facebook.
As a key sponsor of IMEX, Pixe is providing the official IMEX 2014 Photo Booth at this internationally recognized events & meetings organizers industry conference.
"IMEX Frankfurt presents a great opportunity to engage with influential buyers who are looking for smart technology solutions to take their brand's social reach to the next level," said Rajiv Jain, CEO of Pixe LLC. "IMEX provides Pixe with the perfect environment to expand the brand's global presence."
To learn more about how Pixe can provide your brand with a turnkey social marketing solution, visit Stand C720 and make an appointment with Director of Sales, Michael Krantz.
About Pixe
Pixe LLC is a Maryland-based start-up providing mobile-based social promotional solutions that take the challenge out of social media marketing by converting audiences into brand ambassadors. Launched in April 2013, Pixe's flagship social marketing solution - Pixe Social - helps boost the social presence of a number of leading brands and events.
About IMEX
IMEX 2014 is the show that innovates, inspires, and presents new opportunities for the global meetings industry. In the heart of one of the world's largest outbound meetings markets, IMEX 2014 is a hub of energy on the show floor. IMEX 2014 isn't just about doing business; it's about building it and your career to greater things.