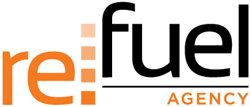 New York, NY (PRWEB) May 06, 2014
re:fuel agency, a leader in Youth, College, Military and Multicultural marketing and media placement, today announced it is acquiring the experiential marketing division of Brite Media Group ("BMG"), with locations in Philadelphia, NY, Chicago and LA.
The award-winning business creates and executes fully-integrated promotional and experiential programs built upon 20 years of hands-on experience in the consumer promotion space. Ranked among the Top 100 U.S. experiential and promotional agencies, the division has been widely recognized in the press and is included in both Chief Marketer and Promo's 'Top Shops' and Event Marketer's 'IT List' year after year.
The acquisition will further strengthen re:fuel agency's growing presence in the experiential marketing space. "re:fuel agency will make a great home for this business; it's a natural fit between our clients and capabilities, extends our existing event team, and enhances our ability to offer clients bigger and better activations and promotional programs," said Mr. White, CEO and President of re:fuel agency, who has previously overseen multiple promotional agencies and business groups including Amp Agency (a past winner of Promo Agency of the Year by PROMO Magazine), MarketSource Interactive Corporation, 360 Youth Corporation, and Alloy Media + Marketing. "The group brings with them an impressive client roster with an executional reputation that is second to none," said White.
"Speaking on behalf of our team, we are excited to combine our capabilities and rich heritage –MarketSource, Alloy, Brite – with re:fuel agency's talented team. Their special partnerships and exclusive access, such as they have with military bases and colleges, will be of great benefit to many of our clients," said Mr. Underwood, former BMG executive and now Director of Experiential Business Development and Creative at re:fuel agency. "By joining forces, the company will become an even more powerful force and client resource for innovative, turnkey, and ROI-driven brand building experiential programs," said Underwood.
The new sales, operational, creative and account management personnel will be joining re:fuel agency offices in New York, New Jersey, Los Angeles and Chicago.