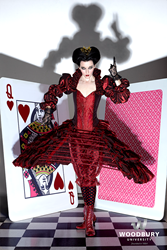 Los Angeles, Calif. (PRWEB) May 03, 2014
It might be fitting to suggest that fashion design students typically provide a sneak peek at tomorrow's talent and trends. But on May 8, at Woodbury University's 50th Anniversary Fashion Show at Club Nokia at L.A. Live, it's probably more accurate to say that runway-quality design is here now, today, no waiting.
The landmark event will cap an inspired year of students creating fresh, leading-edge designs and honing artisanal sewing skills. Noted Los Angeles designers Ashton Michael, Cerre Leather and Rik Villa, among others, have ensured that student work is relevant, visually powerful and utterly contemporary. Hollywood mainstay Eduardo Castro serves as mentor for this year's costume department project, culminating in a high-fashion inspired Alice in Wonderland.
The runway event at Club Nokia will also feature jewelry-based digi-printed swimwear, designed by sophomores, with matching headphones developed expressly for the runway in association with consumer audio pioneer Velodyne Acoustics (http://www.velodyne.com). A first-of-its-kind design competition treated Velodyne vFree® on-ear wireless Bluetooth headphone skins as the medium. Winners included second-year students Brittany Diego, Elida Donat, Mai Shoua Lee, Victoria Mendoza and Mariam Sabha.
Visual skills classes produced Amish-inspired street wear that takes a bite out of Harajuku, and junior-level L.A. Collections inspired by such Los Angeles haunts as Malibu, Hollywood and Silverlake. Senior collections will close the show with the elegant references to identity, insight and haute couture techniques.
"Our Fashion Design core philosophy encourages immersion in all aspects of fashion design from inspired research, illustration skills, sewing mastery, and design relevance," said Kathryn Hagen, department chair. "For our 50th anniversary, we've pulled out all the stops, creatively – and student work will be eminently worthy of the L.A. Live venue."
Doors open at 7 p.m., with models taking to the runway at 8 p.m. The event at Club Nokia, 800 W. Olympic Blvd, is free and open to the public. Tickets and information is available at http://www.woodburyfashion.com.
About Woodbury University
Founded in 1884, Woodbury University is one of the oldest institutions of higher education in Southern California. Woodbury offers bachelor's degrees from the School of Architecture, School of Business, School of Media, Culture & Design, and Institute of Transdisciplinary Studies, along with an MBA program, Master of Architecture (MArch), Master of Science in Architecture (MSArch), and Master of Organizational Leadership. A San Diego campus offers bachelor of architecture, Master of Real Estate Development for Architects (MRED), and Master of Science in Architecture, Landscape, and Urbanism degrees. Visit http://www.woodbury.edu for more information, and Reflections on Excellence, the twice-monthly blog written by Woodbury University President Luis Maria R. Calingo, Ph.D.