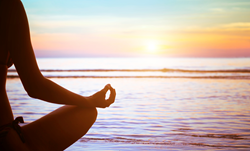 "Practicing yoga outside on the grass with an ocean view is a rare opportunity, so we like to take advantage of our perfect setting," said Hotel Milo Santa Barbara General Manager Shelley Stearns.
Santa Barbara, CA (PRWEB) May 05, 2014
Grab a yoga mat, work your core, and indulge in the sunlight and beach breeze for a divine wellness experience. Hotel Milo Santa Barbara announced today that the historic Independent Collection (IC) hotel will be teaming up with Canadian lifestyle and active wear brand Lolë for a delightful oceanfront Summer in the Park Yoga series in Ambassador Park. The hour-long yoga sessions are complimentary for the Santa Barbara hotel guests and locals alike.
In the true spirit of IC hotels, the Summer in the Park Yoga series brings the city to the property and encourages participants to experience the uniqueness of Santa Barbara. "Practicing yoga outside on the grass with an ocean view is a rare opportunity, so we like to take advantage of our perfect setting," said General Manager Shelley Stearns. "Lolë is a local favorite of yogis and a fitness brand that really engages the community – our values align wonderfully."
In addition to Lolë, local cold-pressed juice brand, The Juice Club will also be on hand to provide refreshing samples of their organic, locally sourced juices with full sized bottles available for purchase.
Inspired by well-being, the Lolë collection of yoga wear is all about versatility, functionality, comfort and style. That, combined with their love of nature, makes this the perfect partnership. Beginning the second Saturday of every month at 10:30 a.m., led by some of the most celebrated teachers in town, guests and locals will be able to experience the best of Santa Barbara and start the weekend off right.
THE DETAILS

COST: Free!
DATES: June 14th, July 12th, August 9th, September 13th
TIMES: 10:30 a.m. on the second Saturday each month from June – September 2014
LOCATION: Ambassador Park, on the grounds of Hotel Milo Santa Barbara
REGISTRATION: No reservation required! Attendees are simply asked to arrive at least 10 minutes before start time.
INSTRUCTORS: A rotation of various locally-based Santa Barbara yoga instructors
About Independent Collection: The Independent Collection is a growing collection of cultivated and intimate lifestyle hotels located in unique residential neighborhoods of gateway cities across the US. Founded in New York in Tribeca and then Brooklyn, it has grown to Boston's West End, Midtown Village in Philadelphia, Washington's Capitol Hill and Georgetown, and Miami's South Beach across the last five years. This distinctive hotel concept is renowned for its authentic connection to the local communities, personalized service and residential comforts. Independent Collection hotels are created for the independently minded traveler and invite guests to experience the true spirit of the city.
About Lolë: Lolë nurtures the body and mind with fun, feminine, and beautifully designed active wear that's stylish enough to transition instantly from the studio to the street. Designed for today's active urban woman, Lolë collections truly reflect a modern lifestyle, and turn consumption into investment by offering long-lasting, versatile clothing with real value. Lolë stands for Live Out Loud Every day. Born in Canada and still entirely designed in Montreal, Quebec, Lolë clothing can be found at more than 1,500 retail outlets around the world, in Lolë Ateliers and online.