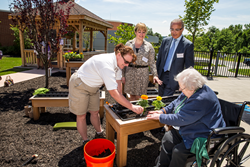 'We designed the therapy garden at Merwick Care & Rehabilitation Center because we want to bring home to our short-term rehabilitation residents,' said Batsheva Katz, vice president, Windsor Healthcare.
Anaheim, CA (PRWEB) May 05, 2014
Windsor Healthcare Communities Vice President Batsheva Katz today is accepting a national healthcare landscape architecture award and is speaking about Merwick Care & Rehabilitation Center's innovative garden for outdoor physical therapy during the plenary discussion at the 2014 Environments for Aging Conference.
"People undergoing short-term residential rehabilitation after an illness or surgery have been displaced from their homes," Katz said. "We designed the therapy garden at Merwick Care & Rehabilitation Center because we want to bring home to them," she told an audience of leaders in the fields of elder care and rehabilitative care nationwide, including owners and operators of short- and long-term care facilities, healthcare experts and architects.
Merwick is one of three senior care project winners of the 2013 Landscape Architecture for Healthcare Communities awards being recognized by Environments for Aging's parent company, Vendome Healthcare Media. Environments for Aging sponsors the annual conference dedicated to advancing senior environments through building, architecture and design best practices.
Nestled in the inner courtyard of Windsor Healthcare's Merwick home in Plainsboro, NJ, the garden features a variety of walking surfaces including loose gravel, brick pavers, rubber asphalt, mulch, and for Jersey Shore lovers, sand and boardwalk. These surfaces provide the opportunity to re-learn walking under the same circumstances people will encounter when they return home.
Other activities include getting in and out of the therapy car as well as going to the gazebo to practice steps commonly taken to enter a home—navigating the front step and getting inside while carrying mail or other objects — and reaching over a counter to open a window. Gardening stations enable residents to practice fine motor skills. A bonus for golfers is the putting green, allowing them to rebuild their swing while navigating synthetic turf.
All of these activities are surrounded by the garden landscape, which includes a variety of shade trees, shrubs, perennials and ornamental trees. Features for socializing and quiet contemplation are also included, so Merwick's long-term nursing home residents can also enjoy the space, improving the community by bringing two populations together that otherwise live separately in the home.
The garden was selected by Healthcare Design Magazine as a 2013 Gold Winner of a landscape architecture award for healthcare environments in the senior care category, which included care facilities, assisted living, continuing care retirement communities, independent living, post-acute/rehabilitation, skilled nursing, wellness/fitness, and other senior living environments.
The therapy garden at Merwick is currently the only one of its kind on the East Coast. It has been such a success that Windsor Healthcare is building two more therapy gardens, one at the new Venetian Care & Rehabilitation Center, opening this summer in South Amboy, and another at Ashbrook Care & Rehabilitation Center in Scotch Plains.
About Windsor Healthcare:
A family-owned company, Windsor Healthcare Communities provides clinically sophisticated sub-acute care, as well as comprehensive nursing care, in ten homes located throughout New Jersey, where we are leading the state in our adoption of a more enlightened philosophy of "life after adulthood." At Windsor Healthcare Communities, we honor people first, value relationships, and treat our Elders and employee care partners like family. This family commitment is our measure for outstanding, quality care—in our communities, we strive to do things as we would do them at home.
Windsor Healthcare Communities include Abingdon Care & Rehabilitation Center in Green Brook, Ashbrook in Scotch Plains, Briarwood in South Amboy, Buckingham in Norwood, Canterbury in Cedar Grove, Cornell Hall in Union, Llanfair House in Wayne, Merwick in Plainsboro, Windsor Gardens in East Orange and Venetian, opening this summer in South Amboy.