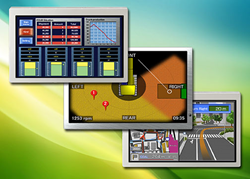 The new LCD modules are ideally suited for use in a wide variety of professional and industrial display applications.
(PRWEB) May 05, 2014
Tianma NLT America (TNAM) is introducing four new wide format LCD modules with ultra-high luminance, long-life LED backlights and wide operating temperature ranges. These a-SI TFT displays feature WVGA (Wide Video Graphics Array) resolution — two 7.0" displays and the 8.0" — and WXGA (Widescreen Ultra Extended Graphics Array) resolution in the 12.1" size, with wide viewing angles and daylight readability.
The new LCD modules are ideally suited for use in a wide variety of professional and industrial display applications. Three of the four displays, the two 7-inch and one 8-inch, are equipped with long-life white LED backlight units (BLUs) with a lifetime of 100,000 hours that achieve high luminance and contribute to lower maintenance costs for equipment and reduced environmental impact. The 12.1-inch WXGA display's LED BLUs have a lifetime of 60,000 hours.
The 7.0-inch NL8048AC19-14F and 8.0-inch NL8048AC21-01F have a luminance of 1000 cd/m2, and the 12.1-inch NL12880BC20-07F has a luminance of 1800 cd/m2, resulting in excellent viewability even in high ambient light environments. They are ideal for display applications in outdoor environments.
The 12.1-inch LCD utilizes NLT's proprietary color reproduction technology, ColorXcell, which enables vivid color reproduction of images without increasing power consumption. Use of an LED backlight in combination with NLT's ColorXcell technology enables further reduction in power consumption.
Typically, displays used in outdoor environments are equipped with high power backlights in order to achieve sufficient viewability when exposed to strong light such as direct sunlight.
Under these conditions, LED backlights require greater power consumption in order to achieve sufficient luminance to be readable in outdoor settings, which shortens the backlight's lifespan. Tianma NLT America has met the demand for high brightness, longer backlight lifespan and reduced maintenance costs by optimizing the design and heat dissipation performance of the backlight.
All four of the new modules feature wide operating temperature ranges. The 7.0-inch and 8.0-inch modules have an operating temperature range of -30º to +80º C, and the 12.1-inch module offers -20º to +70º C. The wide operating ranges of these displays ensures stable operation in very low and very high temperature ambient environments.
Three of the four displays will be demonstrated at SID Display Week 2014, June 3-5, San Diego, CA, in booth 1320.
For more information, contact Tianma NLT America, Inc., 2801 Scott Blvd., Santa Clara, CA 95050. 1-408-816-7010; marketing(at)tianma-nlt(dot)com; http://www.tianma-nlt.com.
About Tianma NLT America
Tianma NLT America, Inc. (TNAM) was established in November 2013 as a joint venture between Shanghai AVIC Optoelectronics Co., Ltd. and NLT Technologies, Ltd. TNAM is focused on providing the Americas with LCD products specifically for industrial and professional applications. With an extensive lineup of 2.X to 21.X-inch active-matrix LCD modules and a network of best-in-class distributors and value-added partners, Tianma NLT America provides complete display module solutions to a broad base of customers and applications. The range of LCD modules offered includes ultra-high resolutions, wide temperature ranges, high contrast ratios, rich color gamut, backward compatibility, LED backlights, and transflective viewing for use in diverse lighting environments.
Tianma NLT America is committed to delivering innovative, high-performance, eco-conscious LCD solutions that address the diverse size, power and high image-quality needs of our industrial, medical, professional and high-end monitor customers. Based on technologies developed by NLT Technologies and other Tianma Group companies, the LCD modules are optimized and designed for a wide range of applications, including portable and stationary medical equipment, test and measurement devices, instrumentation equipment, point-of-sale and ATM systems, gaming systems, global positioning systems, radio-frequency identification devices and barcode scanners.
Additional information can be found at http://www.tianma-nlt.com