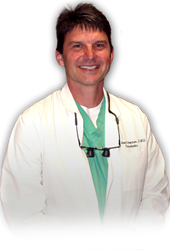 Tupelo, MS (PRWEB) May 04, 2014
Dr. J. Michael Robertson recently spoke at a dental hygiene meeting in Southaven, Mississippi, where he gave a presentation on the Laser Assisted New Attachment Procedure (LANAP®), an advanced periodontal disease treatment. Through his Tupelo periodontics practice, Dr. Robertson has gained experience performing this minimally invasive surgery, which offers patients unique benefits. During the hygiene meeting on March 20, guests had the opportunity to learn about the procedure, the technology used, and the reasons Dr. Robertson advises patients to choose LANAP® for their Tupelo gum disease treatment.
The professionals who attended Dr. Robertson's meeting earned two hours of continuing education credit while learning about an effective alternative to conventional gum surgery. Only one percent of dental professionals currently perform LANAP®. However, as the first FDA cleared laser gum surgery, the procedure has been proven safe and highly successful. Since LANAP® uses a laser rather than a scalpel to treat periodontal disease, patients typically experience minimal tissue loss, bleeding, or pain. The laser used during the procedure even sterilizes the gum pocket and stimulates alveolar bone growth, reducing the risk of infections and tooth loss. Dr. Robertson often recommends this Tupelo gum disease treatment to patients at risk for tooth loss and patients who are considering subsequent procedures, such as receiving implants.
At his Tupelo periodontics practice, Dr. Robertson can typically perform the entire procedure in one to two short sessions. He begins by evaluating the patient's gum pockets and using the PerioLase® MVP-7™, an FDA cleared laser, to remove bacteria and diseased tissue. This laser has no harmful effects on healthy gum tissue. Dr. Robertson then removes tartar deposits below the gum line with a scaling tool. He finishes the procedure by using the laser a second time to stimulate bone regeneration and blood clot formation. There is no need for sutures, and many patients can return to their usual activities the following day.
When Dr. Robertson is not sharing his expertise through presentations or participating in continuing education events, he offers numerous procedures at his Tupelo periodontics practice to help patients preserve their oral health. Dr. Robertson encourages people who have periodontal disease to schedule a consultation and learn more about his minimally invasive Tupelo gum disease treatment. People experiencing oral health problems are welcome to call Dr. Robertson's office or visit his website to request an appointment.
About the Doctor
Dr. J. Michael Robertson is a periodontist offering personalized dental care for patients in Tupelo, MS. Dr. Robertson received his B.A. from the University of Mississippi as a chancellor and Dean's List scholar, and his D.M.D. from the University of Mississippi School of Dentistry. He earned his certificate in periodontics from the University of Alabama. Dr. Robertson is part of one percent of dental professionals providing the LANAP® FDA cleared laser procedure for gum disease and periodontal treatment. To learn more about Dr. Robertson and his dental services, visit his website at http://www.northmsperio.com and call (662) 269-1317.