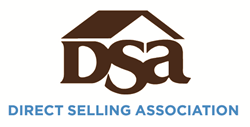 Tennessee will benefit from this strong consumer protection law.
Washington, DC (PRWEB) May 02, 2014
The Direct Selling Association (DSA) applauds passage of House Bill 2356, which will strengthen existing Tennessee anti-pyramid scheme laws to better protect the state's residents from becoming victims of these unscrupulous scams. Gov. Bill Haslam signed the bill into law Monday.
"Pyramid schemes are illegal get-rich-quick ploys," said DSA President Joseph Mariano. "The DSA worked closely with supporters in the Tennessee legislature to encourage passage of this bill. We believe it is important to explicitly define illegal pyramid schemes and better differentiate them from legitimate direct selling opportunities."
The new law will:

More clearly define what is considered a pyramid promotional scheme;
Strengthen the hand of law enforcement by clarifying existing law, while protecting legitimate direct sellers;
Clearly differentiate legitimate product sales and income opportunities offered by direct selling companies; and
Prohibit the operation of pyramid schemes without having to prove that the participants were actually deceived or suffered damage, allowing law enforcement to prosecute before an operation can cause significant injury.
The language in the new law is based on model anti-pyramid legislation supported by DSA and included by the Council of State Governments (CSG) in its 2004 volume of suggested state legislation. Similar legislation has also been enacted in Idaho, Georgia, Utah, Nebraska, Virginia and Washington as those states moved to update their laws.
House Bill 2356 was introduced by Rep. Jeremy Durham, R-Franklin, and a Senate companion bill was introduced by Sen. Jack Johnson, R-Franklin. The bill passed the House by a vote of 93-0 and the Senate by a vote of 32-1.
"Tennessee will benefit from this strong consumer protection law," said Mariano. "It will also protect the thousands of Tennesseans who are working full or part time as direct sellers with legitimate companies." The DSA estimates there are 280,000 direct sellers in Tennessee.
Learn more about direct selling and DSA's self-regulatory Code of Ethics online at http://www.directselling411.com.
About Direct Selling
Direct selling is a business model that offers entrepreneurial opportunities to individuals as independent contractors to market and/or sell products and services, typically outside of a fixed retail establishment, through one-to-one selling, in-home product demonstrations or online. Compensation is ultimately based on sales and may be earned based on personal sales and/or the sales of others in their sales organizations.
Direct sellers may be called distributors, representatives, consultants or various other titles. They may participate in various ways, including selling the products themselves or through their sales organizations, providing training and leadership to their sales organizations, referring customers to the company, and purchasing products and services for personal use.
About the Direct Selling Association
DSA is the national trade association of the leading firms that manufacture and distribute goods and services sold directly to consumers. Among its more than 240 active members and pending applicants are companies selling both via a party-plan method and in the traditional person-to-person style. In 2012, U.S. direct sales were more than $31.6 billion with nearly 16 million direct sellers nationwide. The vast majority are independent business people—micro-entrepreneurs—whose purpose is to sell the product/service of the company they voluntarily choose to represent. Approximately 90 percent of direct sellers operate their business part-time.
For more information on direct selling, DSA and its Code of Ethics, please visit DSA's website, http://www.dsa.org.