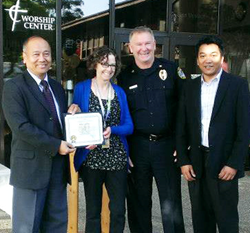 "This was a wonderful opportunity to commemorate our 40th anniversary and get a glimpse of what the next 40 years may bring," said Sheila Tanimura, Preschool Director.
San Jose, CA (PRWEB) May 09, 2014
Milpitas Christian School (MCS) celebrated its 40th Anniversary recently. The festivities began with a plaque dedication ceremony held at their preschool. Mayor of Milpitas, Jose Esteves; Milpitas Fire Chief, Robert Mihovich; Milpitas Planning Commissioner, Gary Barbadillo; MCS Founder, Judy Morasci, MCS Superintendent, Dr. Ken Van Meter; Pastor Mark Tumney, Christ Community Church (Milpitas, CA) and other honored guests gathered to celebrate Milpitas Christian School's achievement of educational excellence since 1974.
"Milpitas Christian School has built its uncompromising high academic standards on the foundation established in 1974, by Judy Morasci in conjunction with Christ Community Church, (formerly known as First Presbyterian Church of Milpitas). We are fortunate to have the Lord continuously providing, guiding, and blessing us," says Dr. Ken Van Meter, MCS Superintendent.
To celebrate the great work and ministry the Lord has given, the entire MCS family set aside time to honor founder, Judy Morasci, previous board members, superintendents, faculty, staff, parents and students. The celebration began on Friday morning with the plaque dedication. The festivities continued in the evening on the Elementary and Middle School campus where alumni, staff and current families enjoyed food and fun activities, giving them a chance to mingle and reminisce. From food trucks and bouncy houses to an Alumni vs. Students softball game, everyone had a chance to enjoy the evening! The celebration culminated Saturday evening with a beautiful gala dinner held at the Crown Plaza Hotel in Milpitas. The well-attended event included former Board Chairmen Roy Urbach and Dave Paul, previous Superintendent Mike Ely, present-day Superintendent Dr. Ken Van Meter, and current Chairman of the Board Don Liffengren. Many spoke to the history, present day, and the future of the school. "Some program expansion is on the horizon for both campuses," said Board Chairman Don Liffengren, "we are just in the planning stages".
ABOUT MILPITAS CHRISTIAN SCHOOL
Milpitas Christian School, which began operations 40 years ago in 1974, prepares students for a lifetime of learning, service to their communities, and future success by building excellent character in its students. MCS delivers an uncompromising, high academic standards education that includes biblical teaching, and which educates the whole child.
DISCLAIMER
Milpitas Christian School, Inc., does not discriminate on the basis of sex, race, national, or ethnic origin in the administration of any administrative practices or policies.