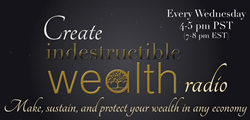 "It's not just about money—the key is to grow all of your assets (i.e. your physical, mental, and financial assets) to create wellness and happiness."
Rancho Cucamonga, CA (PRWEB) May 04, 2014
Logos Lifetime Enterprises announced the launch of their new show today which will be based on their proprietary system for creating indestructible wealth. The show offers listeners simple yet impactful advice for making, sustaining, and protecting their wealth in any economy.
Listeners will learn about Paul Mata's easy tips and strategies on how they can grow all of their assets so they can live an abundant and prosperous life.
When asked what differs this radio show from any boring-money-talk-radio- Paul immediately exclaimed, "It's not just about money—the key is to grow all of your assets (i.e. your physical, mental, and financial assets) to create wellness and happiness."
Each week Paul will have special guests that give insight on generating holistic wealth and an abundant lifestyle. Paul's background as a CFP, insurance broker and an entrepreneur produces an unlimited source of wealth knowledge that every listener can benefit from. The show will air live every Wednesday at 4pm PST on the Rockstar Worldwide on the Doublewide Network. Recordings of past shows will be available here, and on iTunes.
Tune in: Create Indestructible Wealth Radio can be heard every Wednesday at 4 p.m. starting May 7, 2014 on Rockstar Worldwide on the Doublewide Network. To listen to past recordings, visit the website here!
About Logos Lifetime Enterprises
Logos Lifetime Enterprises mission is to help people lead an abundant and prosperous life with a passion to serve others. They help people of all ages and backgrounds lead better lives by helping them make, sustain, and protect their wealth in any economy.
Logos Lifetime University was founded as developed by Paul Mata who has over 20 years of experience working at a Wall Street Firm as a stock broker and managing principal. After creating more than nine successful companies, Mata decided to establish Logos Lifetime Enterprises in 2012 to teach people everything he learned about creating wealth. Author of the book Indestructible Wealth, Mata is the leading expert on creating holistic wealth. Today Mata focuses on helping people create indestructible wealth through his proprietary 12-step wealth creation system that incorporates growing people's financial assets, as well as their mental and physical assets so they can develop a wealth that can never be destroyed.
For more information visit http://www.CreateIndestructibleWealth.com, like CIW on Facebook and Follow CIW on Twitter.