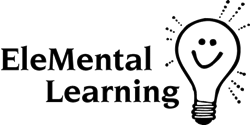 EleMental Learning's tutors are all state-certified teachers, so you should feel confident that your student will be working with a trained educational professional.
Chicago, IL (PRWEB) May 06, 2014
EleMental Learning, Chicagoland's leading provider of high-quality private tutoring services, is pleased to announce the addition of six new tutors in Illinois:
Tutor #1: Kate M.
Location: Chicago, IL
Areas Served: Tutoring in Chicago and the North Shore suburbs
Years of Teaching Experience: 3
Education: Eastern Illinois University – reading specialist
Certifications: Illinois Type 10
Tutoring Rate: $50 per hour
Kate has taught math, literature, science, and history to 5th graders. She also worked in a high school, where she taught World Studies, Biology, American Literature, and Career Planning to sophomores. She also has taught Special Education with kindergarteners, fifth graders, and 10th graders. According to Kate, "Students whom I have tutored in the past say I make things seem so easy! My strength lies in presenting information in multiple modalities until it "clicks" for the student. Then we practice the skill in a variety of applications, and I provide the student with quirky ways to remember what they've learned. I have experience both in the classroom and as a tutor, but I am young and establish a great rapport with my students. As I demonstrated both as a basketball and track and field coach, I am a great motivator!."
Tutor #2: Mary P.
Location: Northfield, IL
Areas Served: North Shore suburbs of Chicago
Years of Teaching Experience: 3
Education: Northeastern University – business management; National Louis University – Reading and Special Education
Certification: Illinois Type 10 Certificate
Tutoring Rate: $40 per hour
Mary has experience as a grade school and high school resource teacher. Her specialty is helping students write papers. She also enjoys teaching younger children how to read better. She has experience working with students who have disabilities. She structures her hourly tutoring sessions as 45 minutes of work followed by 15 minutes of learning play.
Tutor #3: Anne S.
Location: Winnetka, IL
Areas Served: Within 20 miles of Winnetka
Years of Teaching Experience: 5
Education: Anne attended Lake Forest College and Bryn Mawr College
Certifications: Illinois Type 39 certification
Foreign Language: Spanish
Tutoring Rate: $40 per hour
Anne's teaching experience includes time in Mexico where she taught at a bilingual elementary school. She also taught English and humanities to high school students and adults in Mexico as well. Anne says: "I am a great tutor because teaching is my passion and I work hard to develop the lessons to help my students…please get in touch with me if you want a very good tutor!"
Tutor #4: Pat R.
Location: Glencoe, IL
Areas Served: North Shore suburbs and the north side of Chicago
Years of Teaching Experience: 20
Education: AB in Art History from Cal Berkeley; MA in Visual/Theater Arts from Roosevelt
Certifications: Illinois Elementary Art / Language Arts / Social Science; Illinois Secondary Art
Tutoring Rate: $65 per hour
Pat R. has taught in urban and suburban public school classrooms and in private school. She has tutored students in Language Arts and Social Studies - grammar, essays for school, reading comprehension, oral presentation and college admissions essays. Each student receives an individual study plan based on his or her areas of need. Pat's students are all doing well - grades are improving and students are being admitted to colleges of their choice and receiving financial help.
Tutor #5: Nicole R.
Location: Plainfield, IL
Areas Served: Plainfield, Naperville, and Bolingbrook
Years of Teaching Experience: 12
Education: B.S. in Elementary Education from Illinois State, Masters in Reading Instruction from Governors State Univ.
Certifications: Illinois Type 3
Tutoring Rate: $40 per hour
Nicole R. focuses on elementary age students. She is a certified reading specialist and is also familiar with ISAT exam preparation. She welcomes the challenge of helping struggling readers and feels confident that through positive, confidence boosting instruction, she can foster learning and growth in elementary students.
Tutor #6: Lisa S.
Location: Elburn, IL
Areas Served: Elburn, South Elgin, Geneva, Sugar Grove, Maple Park, and parts of St. Charles and South Elgin
Years of Teaching Experience: 17
Education: B.A. in Education and Science from National Louis Univ. Masters of Education in Curriculum and Instruction from National Louis Univ.
Certifications: Illinois Type 3
Tutoring Rate: $40 per hour
Lisa S. has taught middle school students in the subjects of science, math, and language arts. She also has experience with elementary age students as well. She has also worked with gifted and special needs students of all levels and abilities.
Elemental Learning is pleased to welcome these talented new tutors alongside the more than 700 state-certified teachers nationwide who already are available for our clients' tutoring needs. Founded in 2005, EleMental Learning is a private tutoring company founded upon the belief that the mass-marketed curriculums and loose qualification standards of major tutoring companies cannot possibly cater to each student's unique tutoring needs, learning habits, and personal circumstances. Learn more about EleMental Learning tutoring at http://www.elemental-learning.com.