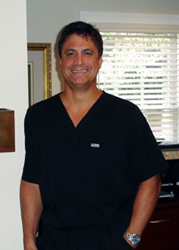 Raleigh, NC (PRWEB) May 04, 2014
Patients who wish to replace missing teeth but who do not have a sufficient amount of jaw bone density may be able to benefit from a special type of dental implants called All-on-4 from Dr. Jason Cataldo of Periodontics and Dental Implants of North Carolina. The All-on-4 delivers a mix of a fixed removable denture with traditional implant technology to give patients a new smile in approximately only an hour and with less pain than could otherwise be possible.
In the past, Raleigh patients that had to replace missing teeth but lacked enough bone density in the jaw would not have been able to consider dental implants. This is because a traditional implant requires a certain level of bone to support each implant. People in this position frequently had to rely upon removable dentures. All-on-4 leverages four key implants as the main support for an upper denture. The jaw bone receives the stimulation it needs and the denture gets a superior level of support. Patients enjoy improved function with the All-on4.
Patients can also avoid invasive bone grafts when selecting the All-on-4 procedure. This reduces overall cost and impact, making a full mouth of teeth possible for those people who must replace missing teeth all at once. Dental implants in Raleigh are considered a better solution to lost teeth than dentures alone because they provide stimulation to the jaw bone. All-on-4 provides that stimulation in a less invasive, less time-intensive and less costly option, making it popular among patients.
Dr. Cataldo is committed to bringing patients the very best care and treatment options. This includes his use of new procedures such as the All-on-4 denture and implant combination. Anyone who is interested in learning more about this procedure or other unique treatment options is invited to visit his web site or to schedule a consultation with Dr. Cataldo at his Periodontics and Dental Implants of North Carolina Raleigh office.
About The Doctor
Periodontics and Dental Implants of North Carolina is a periodontal practice offering personalized dental care for Durham, NC gum disease patients. Dr. Jason Cataldo attended college at the University Of Buffalo School Of Dental Medicine, completed a general practice residency at Michael Reese Hospital in Chicago, IL, and completed his periodontal training at Case Western Reserve University in Cleveland, OH. He is board certified in periodontology and Adjunct faculty at the University of North Carolina at Raleigh. Dr. Cataldo is part of one percent of dental professionals providing the LANAP® FDA cleared laser procedure for gum disease treatment. To learn more about Periodontics and Dental Implants of North Carolina and their dental services visit their website at http://www.carolinaperioimplants.com and call (919) 724-4273.