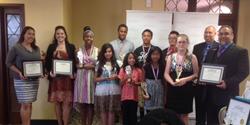 It is our hope that the lessons students learn by participating will follow them into adulthood.
Riverside, Calif. (PRWEB) May 04, 2014
Springboard Nonprofit Consumer Credit Management, Inc., ("Springboard") is pleased to announce the winners of its annual youth financial literacy poster contest. The winners were recognized at a luncheon held the Historic Mission Inn on Wednesday, April 30. Since 2006, Springboard has invited all students in 3rd through 12th grade attending public and private schools in Riverside and San Bernardino County to participate in the contest, which provides youth an opportunity to express their creativity while gaining an understanding of important financial concepts. The contest is a highly anticipated signature event for Springboard, which has received hundreds of entries from area students since the launch of the annual program. Acceptable entries may include original artwork submitted on white paper stock or three-dimensional artwork reflecting the contest theme, which is selected each year by Springboard's team of certified financial educators who travel throughout the region presenting financial literacy workshops to youth and adults. The theme chosen for this year's contest was "To Be a Super Saver, I Will ..." The posters are judged on expression of theme, artwork, style, content and overall creativity.
"We look forward every year to working with local educators, students and parents on this exciting project," said- Melinda Opperman, Springboard's senior vice president. "The poster contest is one way Springboard actively responds to studies that confirm adult money habits are set by the age of seven. It is our hope that the lessons students learn by participating will follow them into adulthood," said Opperman.
A panel of esteemed community stakeholders from various sectors selected a first, second and third place winner from each of the three grade categories – elementary, middle and high school. Each winner was presented a trophy, academic medal and certificate of achievement. Springboard awarded a $100 to the first place winners; $75 to the second place winners and $50 to the third place winners. Representatives from Bank of America and JP Morgan Chase each presented the students with company branded portfolios, ink pens and calculators.
Springboard also awarded the winning student's school with a $25 gift certificate for supporting financial literacy education.
Springboard congratulates the following students selected as winners of the 2014 Youth Financial Literacy Poster Contest:
Elementary School Category (3rd – 5th)
1st Place - Julissa Neblina, Excel Prep Charter School, Fontana
2nd Place - Michelle Fleetwood, Village Elementary School, Victorville
3rd Place - Mia Mihara, Excel Prep Charter School, Fontana
Middle School Category (6th – 8th)
1st Place – Kaylee Flores, Village Elementary School, Victorville
2nd Place – Kayla Smith, Village Elementary School, Victorville
3rd Place – Destiny Piper, Village Elementary School, Victorville
Senior High School Category (9th – 12th)
1st Place - Dawnte Bailey, John W. North High School, Riverside
2nd Place - Gabriel Sanchez, Redlands East Valley High School
3rd Place - Armando Williams, John W. North High School, Riverside
Serving the community as this year's distinguished panel of judges, include Caasi Algazi, United Way of the Inland Valleys; Charles James, Community Action Partnership, San Bernardino County; Marcelino Serna, San Bernardino City Unified School District; Cathy Paredes, Bank of America; and Mario Martinez, JP Morgan Chase.
"We're extremely proud of all the students who participated in this year's contest. We applaud them for their commitment to academic excellence. We appreciate our judges and thank them for all their support of financial education," said Opperman.
About Springboard Nonprofit Consumer Credit Management, Inc.
SPRINGBOARD® Nonprofit Consumer Credit Management is a 501(c)(3) nonprofit personal financial education and counseling organization founded in 1974 with the mission of improving the financial well-being of individuals and families. Springboard is a HUD-approved housing counseling agency and a member of the National Foundation for Credit Counseling and Association of Independent Consumer Credit Counseling Agencies. Springboard offers personal financial education and assistance in credit counseling, housing counseling, debt and money management, pre-bankruptcy counseling and debtor education through educational programs and confidential coaching. Springboard is accredited by the Council on Accreditation, signifying the highest standards for agency governance, fiscal integrity, counselor certification and service delivery policies. Counseling is available by telephone nationwide or in-person at office locations in California, Arizona, Nevada, New Mexico, Texas, Massachusetts, South Carolina, Florida and Maryland. For more information on Springboard, please call 800-449-9818 or visit their web site at Springboard.org.