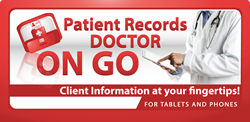 Client information is now at your fingertips anywhere you go.
Plainville CT (PRWEB) May 04, 2014
Siyami Apps is proud to announce the release of native iPad EMR app Doctor ON GO 1.0. The app offers Patient Visits and Records Management features for busy medical professionals such as physicians, nurses, therapists, dentists, and more. SOAP Notes can be turned into invoices or estimates with just one tap. Ability to add reminders for all tasks or to-dos differentiates the app.
Less Typing & More Tapping offers immediate boost in productivity. Doctor ON GO does not need internet connection & can be used effectively in remote areas of the world. The app provides on the go and easy interface to manage searchable historical data, photos, appointments, invoices, estimates, reports, and more. The app can be used as an all-in-one mobile office software or to compliment with an existing EHR applications by exporting CSV files from the app.
"We have built the Doctor ON GO app based on the feedback received across the world from many medical professionals and clinics. The app sets itself apart by immediately syncing activities with Reminders and Calendar apps on the iPad. Users can customize and create unlimited number of templates in the app to match the needs of their practice or clinic. Various color themes are available in the app to suit the user's taste," said R Swati, Director of Siyami Apps LLC.
Features

Add, update, delete, search patients, visits on the go for effective Patient Notes Management.
Various Color Themes are available to suit your taste.
Boost productivity by creating your own custom templates for commonly used scenarios to save repetitive typing.
Customize Patient Form to show or hide fields.
iPad Address Book Integration
Maps Integration
View notes and records history.
Smart Search of Records
Pre-fills your hospital information in records and invoices.
Support for Photo Attachments for Patient Records
Create notes, invoices, estimates, journal logs, tasks, to-do, communication trackers, time sheet.
Add reminders and events to the Calendars for important tasks. Free up your mind to focus on patient care.
One tap to duplicate records.
One tap to turn estimate into invoice and vice-versa.
One tap to turn record into invoice and estimate.
Export-import to share data with existing applications by uploading and downloading CSV files. It is perfect for bulk or mass data upload to/from your existing system.
Schedule events or appointments. Supports calendar sync.
Print or Save PDF
Detailed Help with videos. Videos need internet connection to watch.
Reports for Invoice / Income with Date Range
Pricing and Availability
Doctor ON GO app is now available for free in all the global regions of App Store. It can be downloaded by clicking https://itunes.apple.com/app/id866164994.