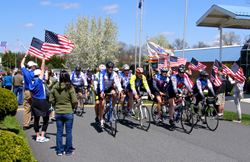 Fund raising efforts by participants and supporting sponsorships by corporations raised more than $435,000 to cover the costs of the participating injured veterans and to fund upcoming inclusive sporting events from the non-profit.
Gettysburg, Pennsylvania (PRWEB) May 05, 2014
Under mostly sunny skies and mild spring temperatures, 130 injured veterans joined with 370 able-bodied riders for the 110-mile, two day Face of America bicycle and hand cycle ride from national non-profit World T.E.A.M. Sports April 26-27.
Ending in this historic southern Pennsylvania community, the participating injured veterans received a heartfelt welcome from several hundred spectators. Entering the AllStar Expo Complex at the Eisenhower Hotel underneath a mammoth American flag hung by the Gettysburg Fire Department, the riders celebrated their accomplishment with cheers and big smiles.
The 12th Face of America ride included participants from 35 states, the District of Columbia, Canada and Denmark who rode together from the Pentagon in Arlington, Virginia to Gettysburg. Through fund raising efforts by participants and supporting sponsorships by corporations and partners, more than $435,000 was raised to cover the costs of the participating injured veterans and to fund upcoming inclusive sporting events from the non-profit.
With rider participation and fund raising at their highest level for any World T.E.A.M. Sports event in more than a decade, the 2014 Face of America provided an opportunity to bring together injured veterans with active duty military, retired military and civilians for a weekend of riding the same road. Many of the injured veterans found the ride to be therapeutic, offering physical activity while meeting others and forming new support networks.
The riders were up early Saturday morning for the journey through city streets and suburban country roads and highways north to Frederick, Maryland. Riders traveled through historic Fort Meyer from the Pentagon past the U.S. Marine Corps National Memorial into suburban Rosslyn. Once across the Key Bridge into Washington, the riders followed the Potomac River north.
Despite occasional threatening skies and gusty winds from passing thundershowers, conditions remained dry for the ride. Spirits remained high among the riders as traveled rode north through the rolling Maryland countryside, stopping for lunch at the Upper Montgomery First Station #14 in Bealsville and at three additional rest stops manned by eager volunteers.
Arriving in Frederick shortly before 4 p.m., the riders were treated to lively bluegrass music from the Gaithersburg, Maryland Flower Hill String Band.
On Sunday, the riders again started early, pedaling through Frederick. Following stops at the historic Loy's Station covered bridge north of the city and Barlow Fire Company 22 near Gettysburg, the riders separated into smaller groups to ride through the historic battlefields. Regrouping south of the park with participants from the single day Gettysburg Loop ride, everyone joined together for the triumphant ride into the AllStar Expo Complex. Meeting the riders at the Complex was Pennsylvania 4th Congressional District Representative Col. Scott Perry. A member of the Pennsylvania Army National Guard who served in Iraq in 2008 during Operation Iraqi Freedom, Col. Perry offered the riders a few words upon arrival.
The 2014 Face of America Ride was supported through sponsorships from Capital One Bank, Booz Allen Hamilton, Benson Botsford LLC, BODYARMOR, Exit 10, FootStomp.com, Deven's Recycling, Fidelity & Guaranty Life, Freshbikes, General Electric, Penske Truck Rental, Subway of the Walter Reed National Military Medical Center, Three Wire Systems LLC, Vedder Price and Veterans Corps of America.
About World T.E.A.M. Sports
World T.E.A.M. Sports is a 501(c)(3) not-for-profit organization chartered in North Carolina and headquartered in Holbrook, New York. Since 1993, World T.E.A.M. Sports has organized athletic events for disabled and able bodied citizens – mountain climbing, white water rafting, biking, and more. Four things always happen at our events: (1) Disabled participants build self-confidence and physical fitness; (2) The disabled provide a role model for other disabled citizens, encouraging them to take up physical activities; (3) The disabled become a moving inspiration to other participants and to spectators when they see that disabled individuals can meet challenges beyond anyone's imagination; and (4) The disabled and able-bodied participants learn to work as a team to overcome those challenges. World T.E.A.M. Sports changes lives through sports.