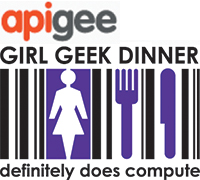 San Jose, CA (PRWEB) May 05, 2014
Apigee®, developer of the leading platform for digital acceleration, today announced it will host the 62nd Bay Area Girl Geek Dinner, to be held on May 8 at Apigee's headquarters in San Jose, California.
The Bay Area Girl Geek Dinner at Apigee will provide women in the technology industry with the opportunity to mingle with fellow "girl geeks" and hear Apigee executives speak on how mobile technology and APIs are changing the world. Speakers will share lessons learned throughout their careers and discuss the challenges and opportunities for women in technology today. Attendees from large Silicon Valley-based technology companies are expected to attend. Previous Bay Area Girl Geek Dinner sponsors include Google, Microsoft, Facebook and Yahoo.
Apigee Girl Geek Dinner 2014 Details
Apigee Speakers:

Jin Zhang, Vice President of Engineering
Karen Lum, User Experience Designer
Catherine Aurelio, Creative Director
Sam Ramji, Vice President of Strategy
When:
Thursday, May 8, 2014
5:30 – 6:30pm: Registration and networking reception with food and drinks
6:30 – 6:45pm: About Apigee and a peek into the world of APIs
6:45 – 7:30pm: Lightning talks from "Apigeeks"
7:30 – 9:00pm: Breakout Q&A and networking
Where:
Apigee Corporation
10 Almaden Boulevard, 16th Floor
San Jose, CA 95113
Use the hashtag #ApigeeGGD to follow the event on Twitter. To learn more about past events and how to get involved, visit the Bay Area Girl Geek Dinners website: http://bayareagirlgeekdinners.com
About Apigee
Apigee provides the leading technology platform for digital acceleration. Through APIs and big data, Apigee delivers the scale, insight and agility any business needsdot to compete in today's digital world. Apigee customers include global enterprises such as Burberry, Walgreens, eBay, Shell, Live Nation, Kaiser Permanente and Sears. The company's headquarters are in San Jose, California. To learn more, go to apigee.com.
# # #
Apigee is a registered trademark in the U.S. Other product or company names mentioned may be trademarks or trade names of their respective companies.