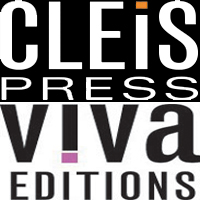 (PRWEB) May 05, 2014
The Independent Publisher Book Awards (the "IPPYs") are intended to bring increased recognition to the thousands of exemplary independent, university, and self-published titles published each year. Since the inaugural contest in 1996, nearly 5,000 books have received IPPY Awards and all the recognition, credibility, and increased sales that a book award can bring. Independent spirit and expertise comes from publishers of all sizes and budgets, and books are judged with that in mind.
This year, six Cleis Press and Viva Editions titles are recipients of book awards in the following categories:
Erotica
Gold: Dark Secret Love (Cleis Press 2013), by Alison Tyler
Dark Secret Love is a modern-day Story of O, a 9 1/2 Weeks-style journey fueled by lust, longing and the search for true love.
Silver: Under Her Thumb (Cleis Press 2013), by DL King
Under Her Thumb will whet the appetite for all things femdom. These fierce tops know how to dominate their men—and the occasional woman.
Sexuality/Relationships
Gold: Partners in Passion (Cleis Press 2014), by Mark A. Michaels and Patricia Johnson
Happily married partners in passion themselves, award-winning authors Mark A. Michaels and Patricia Johnson provide readers with a fun, step-by-step manual to creating a lasting, loving and erotic relationship.
Aging/Death & Dying
Silver: Changing the Way We Die (Viva Editions 2014), by Fran Smith and Sheila Himmel.
In Changing the Way We Die, award-winning journalists Fran Smith and Sheila Himmel investigate what hospice means to today's aging population and their families.
Inspirational/Spiritual
Gold: Burning the Midnight Oil (Viva Editions 2013), by Phil Cousineau
Burning the Midnight Oil is an eclectic and electric collection of soulful poems and prose from great thinkers through the ages. As author and curator Phil Cousineau explains in the introduction to his nocturne, "There is a light that we can find only in the dark...that brings about new thoughts and ideas."
Parenting
Gold: Getting to 50/50 (Viva Editions 2013), by Sharon Meers and Joanna Strober
Sharon Meers and Joanna Strober are two working moms who believe that everyone wins when men are full parents and women have full careers.
Cleis Press publishes works in the areas of fiction and LGBT studies, as well as romance, erotica, how-to sex guides, human rights, memoir and women's studies. Viva Editions are books that inform, entertain and enlighten. Our books contain inspiration, self-help, women's issues, lifestyle, health, parenting, reference, gift and relationship advice.