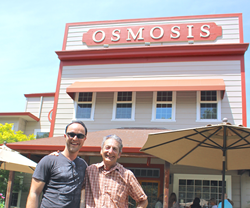 We are thrilled to see that more and more spas are joining the green movement.
Vancouver, BC (PRWEB) May 05, 2014
For decades, Éminence Organic Skin Care (http://www.eminenceorganics.com) has been proud to be one of the first natural, organic and Biodynamic® skin care companies in the spa industry to offer spas the tools, education and opportunity to lower their carbon footprint and increase sustainability and environmentally-friendly practices. On April 27th to 30th, 2014, Éminence attended the Green Spa Network as a Platinum Sponsor for the exclusive invite-only Annual Buyers Conference, providing the industry's top spas the education to make better choices without compromising their business.
Boldijarre Koronczay, President of Éminence Organic Skin Care, joined influential leaders in the spa industry including the founder of the Green Spa Network and Osmosis Day Spa, Michael Stusser. Éminence was also joined by other Green Spa Network members who are dedicated Éminence Spa Partners from across North America, such as Montage Laguna Beach, Ritz Carlton Naples, Osmosis Day Spa Sanctuary, Glenwood Hot Springs Spa of the Rockies and Laguna Cliffs Marriott Resort and Spa. Keynote speakers for the two-day conference in Berkeley, California included Andrew Gibson, VP Spa and Wellness, Fairmont Raffles Hotels & Resorts and Jeremy McCarthy, Director of Global Spa Development and Operations, Starwood Hotels. They highlighted the importance of greening the spa industry and implementing sustainable practices to minimize the negative impact on the environment.
"As Éminence celebrates a company milestone of over 2 million trees planted through our Forests for the Future initiative, we are thrilled to see that more and more spas, spa suppliers and vendors are joining the green movement," says Koronczay. "It's exciting to be on the leading edge of sustainability for a better future for our children and for the future of the spa industry."
For more information on the green movement in the spa industry visit http://www.eminenceorganics.com and http://www.greenspanetwork.org.
About Éminence Organic Skin Care
Éminence Organic Skin Care is the award-winning provider of the most effective skin care products in the natural and organic skin care industry. With more than half a century of herbal craftsmanship and innovation, and several centuries of unsurpassed skin rejuvenation techniques unique to Hungary, we offer the highest quality natural skin care to leading salons, spas and their clients in more than 25 countries around the world. Our superior spa treatments and products rely on a unique combination of hand-picked fresh ingredients. Vitamins are captured in their all-natural fresh base, offering dramatic results as actual seeds, pulps and peels begin the regenerative and healing powers that only nature can produce. Voted "Favorite Skin Care Line" by spa professionals and seen as Hollywood's skin care secret, with devoted fans such as Madonna, Jessica Biel, Katherine Heigl, Jena Malone and Mark Ruffalo, we are renowned for premium organic and Biodynamic® skin care that enhances your well-being naturally. Our commitment to the environment is integral to our business practices and we strive to create products that are good for the earth as well as good for the skin. By enlisting wind and solar power energy in the making of products, recyclable packaging with vegetable-based inks, geothermal heating in the laboratory, an eco-alternative design of our head office we do all that we can to combat climate change. Starting in the fall of 2012, our Forests for the Future initiative brought our commitment to the environment to a whole new level by planting a tree for every product sold. Visit http://www.eminenceorganics.com for more information.