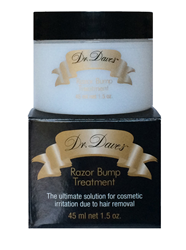 Look amazing in that new Bikini. Dr. Dave's keeps that bikini line looking sexy!
Bayport, NY (PRWEB) May 13, 2014
Look great in that new bikini! Bikini bumps, razor burn and in-grown hairs are unpleasant side effects of shaving and waxing. The creators at Dr. Dave's Skin Care have created a new solution to combat these unfortunate issues that affect most women when shaving inside and outside the bikini line or other sensitive areas. Please visit http://www.drdavesskincare.com and Dr. Daves Facebook page
Dr. Dave's Razor Bump Treatment is a simple to use cream that users massage into their skin. For best results, massage into the skin right after shaving and continue to use it each day and night. Bikini bumps will not occur with regular use.
Michelle M. from California gave her testimonial, "I have always had a hard time shaving my bikini area due to red shaving bumps. Dr. Dave's worked great and does not burn like other products do. After using this daily for a few days - POOF— NO bumps…will be buying again."
Dr. Dave's Razor Bump Treatment isn't just for the bikini area. Men and women can use it on almost any area that they shave such as the pubic area, face, legs, and underarms. This product is great for folliculitis barbae, which is common in the African American community.
Dr. Dave's Skin Care is a company that was created by professionals who have been in the health and beauty industry for years. They are a member of ICMAD (Independent Cosmetic Manufacturers and Distributors), and you can rest assured on the quality of product and service you will receive.
Find out why more and more people are upgrading to Dr. Dave's cream. Use coupon code Daves2014 for 25% off the first order.
About Dr. Dave's Skin Care
We are located in New York and California and have been online since 1994. We are a small company where customer satisfaction and personal service mean the world to us. Over the years we have gained many satisfied customers who have come back to us time and time again. After selling other beauty products for over 20 years we felt it was time to get involved and manufacture our own quality brand.
We firmly believe in a strong commitment to our customers, promptly dealing with any problems should they arise. Remember, we value every one of our clients, wholesale or retail, regardless of how large or small an order you place.