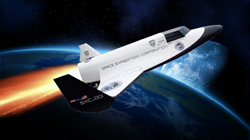 We're very excited about the opportunity to turns people's dreams into reality
Los Angeles, CA (PRWEB) May 05, 2014
Los Angeles-based Rush49, an online specialty retailer of adventure experiences and excursions, will now offer suborbital space travel experiences (including training, instruction and equipment) for U.S. customers through Moonandback Travel (a registered agent to Space Expedition Corporation). In doing so, it will mark the first time a deals site will be retailing trips to outer space for the general buying public. "While space exploration was considered just a kid's dream and relegated to sci-fi, we believe, like many people nowadays, that consumer space travel is well within reach. As such, we're very excited about the opportunity to turn peoples' dreams into reality. This theme of adventure and experience is what we're all about and that's why Rush49 and Moonandback Travel have made such a great partnership," says Kumar Vamsi, Chairman and CEO of Rush49.
In the meantime, Rush49 will continue to maintain and add to the stable of branded high-octane, high-adrenaline experiences like the Rusty Wallace and NASCAR Racing Experiences, skydiving trips, watersports thrills, themed 5K events and adventure runs that originally put the deals site on the map. Rush49 is a southern California-based online adrenaline and events deals site that is dedicated to helping you choose your own adventure by discovering new experiences that fully engage your senses and passions.
Rush49 understands that life is not a spectator sport…and, your adventure is waiting.
Rush49 will also be offering a limited number of special admission tickets for for the 33rd annual International Space Development Conference, "A Space Renaissance", to be held May 14-18, 2014 at The Sheraton Gateway in Los Angeles. The conference will feature speakers including, but not limited to, Elon Musk (SpaceX, Tesla Motors) Buzz Aldrin (astronaut and second person to walk on the moon) Gwynne Shotwell (SpaceX) and the Science Channel's Geoff Notkin.
Rush49, the Rush49 logo and related images are all trademarks of Rush49 ©2014 Rush49