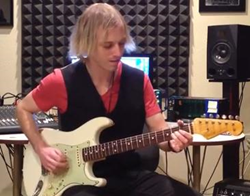 (PRWEB) May 04, 2014
A "riff" is the catchy part of a song that sticks in your head. One of the most recognizable guitar riffs of all time is "Smoke on the water" by Deep Purple.
"We've been talking about how the blues was a precursor for rock and roll", says MacLennan, "this is a great example of a tune that is following the 12 bar blues basically". This lesson is based on a riff instead of chords and Jon demonstrates how to play it as follows; start on the 2nd fret of the 3rd string with first finger, picked twice, and then a slide into the 6th fret with 2nd finger to the 5th fret of the 2nd string with first finger. Next is the 7th fret of the 2nd string with 3rd finger, picked once, followed by bending it up one half step and then releasing and picking again. Then finally going back to the 5th fret and ending on the 7th fret of the 4th string with 3rd finger. Next Jon repeats the sequence starting on the 7th fret of the 3rd string over the four chord and then back to the one chord and then finally repeating the sequence over the five chord starting on the 9th fret of the 3rd string. Guitar TAB's are available for this cool blues guitar lesson at BluesGuitar.com.
The Beatles was an English rock band from Liverpool. They are regarded as the most successful and influential rock band of all time. Over the course of there career they released 12 albums before disbanding in 1970, selling over 177 million albums. They hold the record for the most Hot 100 Hits and have received ten Grammy Awards.
Jon MacLennan
Los Angeles based guitarist Jon MacLennan began his career at the age of 16 and is one of the busiest upcoming session guitarist, artist, composer, producer, and professional educator in LA. Jon has done session work for Julian Lennon, Steven Tyler, and British pop star Jamie Cullum. He has appeared on Disney channels "The Suite Life of Zack and Cody" and on the sound track to the movie "Marley and Me 2 – The Puppy Years". MacLennan earned a bachelor's in ethnomusicology and jazz guitar studies from University of California, Los Angeles, and has been mentored by Carl Verheyen, Wolf Marshall, Kenny Burrell, Anthony Wilson, Tamir Hendelmen, Jimmy Wyble and Ron Anthony which has made him a highly sought after guitar instructor today.
About BluesGuitar.com
BluesGuitar.com is the leader in modern blues guitar instruction. It's packed with resources including articles, video lessons, and the best videos in the business for the beginner to the advanced guitar student taught by the best instructors out there.