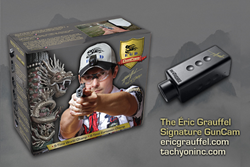 "I highly recommend that you use this great little camera to record and analyze your stages so that you can cut seconds off of your time."
(PRWEB) May 04, 2014
Éric Grauffel, also a 6-time European Champion, puts his signature to the GunCam: the lightest and smallest HD video camera system. It is designed to be easily mounted to caps, making it perfect for capturing intense first-person action of shooting sports.
https://www.youtube.com/watch?v=e3S9uzbmMI0
Features:

One button to turn on and start recording
Wide-angle lens, but no fish-eye effect
5 Hour recording time with rechargeable Lithium battery
Able to record 30 stages of the World Shoot on one charge.
Uses 4 - 64GB Micro memory cards for up to 17 hours of HD video.
Charging cable can charge camera in the field from portable power banks.
Other shooter quotes:
"The GunCam is extremely compact and light. I attach it to my cap and think nothing more of it. It captures everything I need when shooting."

Dave Sevigny ~ USA (11-time USPSA Champion, 9-Time IDPA Champion)
"I give the GunCam two thumbs up. GunCam plus the open gun equals fun! I love this camera!" - Athena Lee ~ USA (2-Time USPSA Nationals Open Champion, 2-Time IPSC World Shoot Open Champion)
"GunCam gives me a direct point of view to review my shooting. Before I would only have a video from far away to see my movements, but now I can correlate it to my shooting as well. This will help identify any deficiencies on my transitions, target acquisition, and any other inefficient movements that I could never before see." - JJ Racaza ~ (Team Captain - USA Gold Team, Ranked #1 in USA)
GunCam is not only for competition pistol shooting. It is designed for all types of guns and gun sports. Tachyoninc.com offers additional mounts for mounting your GunCam to nearly every type of gun. Rifles and shotguns, as well as pistols.
It is well known that the most common cause of lost video from sports cameras is because of non-fixed batteries losing contact with the circuitry. But the GunCam's battery is soldered in place. It is hard-wired to withstand heavy recoil. It has passed tests with shotguns shooting slugs, and ARs and AKs on full automatic. None of these bad boys can stop the GunCam from grabbing your shooting footage. This is the perfect camera for hunters and trap shooters, who wish to relive and show off their shooting prowess to friends and family, as well as to review mistakes and study means of improvement.
The Éric Grauffel Signature GunCam, as well as optional GunCam mounts, can be purchased online and at Éric's shooting events.
If you are in Europe, please purchase from Eric here: €179.95
In the US, Canada, or anywhere outside of Europe please purchase from Tachyon here: $179.99