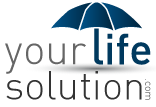 Chicago, IL (PRWEB) May 03, 2014
YourLifeSolution.com, a service which allows consumers to view instant life insurance quotes online without entering personal information, is today publishing 4 largely unknown statistics about life insurance. "I pulled the most noteworthy statistics from different places", said Eric Smith, the founder of YourLifeSolution.com.
The Most Surprising Life Insurance Statistics According to YourLifeSolution.com
Only 44% of households own individual life insurance Source: LifeHappens.org
The average customer overestimates the cost of life insurance by three-fold Source: LIMRA
70 percent of U.S. households with children under 18 would have trouble meeting everyday living expenses within a few months if a primary wage earner were to die today Source: LIMRA
Widowed women are twice as likely to end up in poverty Source: Social Security Administration
Consumers interested in instantly viewing their own life insurance rates from some of the most financially stable carriers are encouraged to visit YourLifeSolution.com, or call Eric Smith at 888.374.2764.