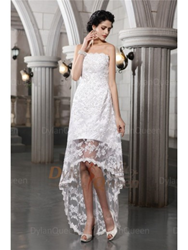 (PRWEB) May 07, 2014
Today, Dylan Queen, a well-known company of prom dresses, introduces its new designs of prom dresses, allowing women to create elegant looks at a prom with its new designs. Moreover, the business has launched a prom dress promotion during the month of May 2014.
The prom dresses have been prepared for over three months before the launch. The designers have made much improvement of the designs based on customers' reviews. These new prom dresses definitely belong to the latest fashion trends in 2014. Dylan Queen has a group of dress experts and skilled staff, who can always design what customers need indeed.
"We are a popular dress store, and customers can buy dresses at our website and reduce the risk of shopping online. Our 2013 prom dresses have got a great success, and we hope to provide better dress solutions to the ladies worldwide," says, the CEO of Dylan Queen.
Dylan Queen promises to update its dresses and shoes at a high rate every week (with more than 200 new products each week). The company is passionate about developing vibrant, feminine and innovative products, and making elegant and generous dresses affordable for every woman.
Dylan Queen is a leading dress company. Its leadership team has previously served as many roles with some big businesses. The company offers a range of specialized designs and services at affordable prices.
About Dylan Queen
Dylan Queen is a reliable dress company. At its one-stop website, it offers a wide variety of chic dresses, including prom dresses, evening dresses, bridesmaid dresses, formal dresses etc. Its aim is to provide worldwide customers with fashionable gowns at acceptable prices. It frequently updates its website with new assortments.
For more details of the company and its products, please visit: http://www.facebook.com/iDylanQueen or http://www.dylanqueen.com/.