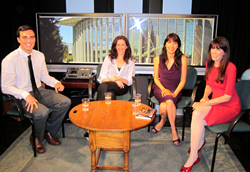 "…typically only about 50 percent of hookups involve condom use..." says Dr. Luciana.
Los Angeles, CA (PRWEB) May 03, 2014
"CSUN on Point" is an award-winning TV news show created and developed at California State University Northridge (CSUN) by Professor Sally Turner, who is the faculty advisor and executive producer of the show. Her team includes director Lincoln Harrison, Jennifer Rufer, Evanne Robinson, Alex Milojkovich, Natalie Palacios, Esmeralda Careaga, Dylan Connolly, as well as many other creative individuals. The advanced level journalism students in Professor Turner's class learn how to produce a half-hour discussion panel on a variety of important topics. "They are enthusiastic and a pleasure to work with," reports Dr. Luciana Lagana.
Dr. Luciana was invited to contribute her expertise to this news show based on her academic credentials and awards. The latter include the 2008 "Visionary Community Service-Learning award" - for her community-based research with her students, and the 2011 "Preeminent Scholarly Publication Award" - for developing and validating a questionnaire to assess the social health and quality of life of primarily non-Caucasian, low-income older women. She is a productive full professor and researcher. Her body of research work includes over 30 academic publications on topics such as sexual dysfunction, older African-American and Hispanic-American women's problems finding a suitable sexual partner, sexuality and developmental disabilities, physical pain, urinary incontinence and other physical challenges experienced in older age, spirituality in relation to physical health, older adults' computer mediated communication, quality of life, coping skills, depression, trauma and PTSD, as well as the psychological complications of cancer and HIV, among other topics.
Dr. Luciana's public health goal is to make research and theory accessible to the masses in a way that is professional and at the same time entertaining and compelling. "I love converting theory and research into easy-to-communicate information that the audience can use, so I certainly enjoy contributing whatever I know to shows and documentaries that are aimed at addressing important social issues and public health concerns," states Luciana. She was delighted to receive an invitation to join a panel of experts in a discussion of the challenges inherent in the process of online dating, either to find marriage prospects or just to establish a casual connection. The other experts on the panel were Allison Cohen, marriage and family therapist, and Julie Spira, cyber-dating expert and digital matchmaker. Alex Milojkovich was the host of the half-hour show.
The show is viewable on youtube and on the CSUN on Point website. It will also air on Sunday at 11:30 am on channel 36 Warner Cable Los Angeles.
In her contribution to the show, Dr. Luciana addressed several online dating and hookup issues, relating them to some of the published research literature in an easy-to-follow way. "Most of the topics that I brought up when answering the host's questions, which were not given to me prior to the live shooting, were complex and serious. For example, when answering one of the questions, I reported that, according to available empirical evidence, typically only about 50 percent of hookups involve condom use. I did my best to relate the research information to the audience in an educational yet entertaining way. I hope that some of what we discussed will reach those who need this information the most," says Dr. Luciana.
Jennifer Rufer, who recruited Dr. Luciana for the show, says that "At any age, dating is always on the mind of singles. Our show discussed the rise in popularity of online dating and how it is changing how strangers are interacting with one another in hopes of finding love. Dr. Lagana was very informative in making sure people stay safe and smart while doing so."
Computer mediated communication on casual sex is a particularly controversial issue, and this was quite obvious during the show. "I tried not to be the voice of doom, but the research findings that I cited on many young women who experience negative consequences from online hookups, for example unwanted vaginal penetration, must be taken seriously", comments Dr. Luciana.
More TV and online programs should cover these important issues, but it is hard to find speakers and experts on them, according to Jennifer. "While online dating statistics are rising, it still seems to be a bit taboo for people who are in their twenties and thirties. I think people shouldn't be afraid to talk about how they are meeting other people. By eventually having more experts talk about these issues, I hope that we will be able to make online dating more of an open discussion among friends, given how sensitive the topics of sex and sexual intimacy are." Dr. Luciana adds that "In two of my CSUN classes, I teach conflict resolution in intimate relationship and sexual dysfunction. In another class, I cover topics such as masturbation, the use of sexually explicit materials and its potential consequences, as well as many other controversial sexual topics relevant to the lives of emerging adults. In these three classes, students discuss these sexual topics in groups in front of the entire class, in a talk-show format that I facilitate. It could be a bit awkward at first, but then students gradually relax and are able to come up with excellent discussion points. Many of these discussions have helped my students deal with several challenges related to sexuality and relationship issues. These classes last 7 and a half hours at a time, but time goes fast when you are discussing fascinating and critical topics that have immediate application to young adults and their loved ones."
It is important to offer young adults (of all sexual orientations, races/ethnicities/cultures) strong role models that could inspire them to make informed and healthy decisions about their relational and sexual health. "Yes, casual sex is made easier via using mobile apps, but we are also seeing an increase in the number of virgins on campuses, which indicates that it is possible to resist the social pressure to engage in short-lived flings and hookups if a person is not interested in them. It is up to the individuals - and to us educators, who should facilitate people's acquisition of this information - to become well-informed and able to make behavioral choices that they are not going to regret", concludes Dr. Luciana.
Written by Matthew Terhune, MFA
Dr. Luciana Lagana is a caring clinical and experimental psychologist and an established professor of psychology, gerontology, sexuality, and women's health at California State University Northridge (CSUN), where she teaches classes and mentors many students. At CSUN, she also conducts government-funded research on ethnically diverse, primarily low-income older women's physical, psychological, social, and sexual health. Concerning her artistic pursuits, she is an award-winning actress/screenwriter and has 33 IMDb credits for acting in independent movies and TV series since 2006.