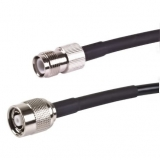 (PRWEB) May 03, 2014
Today, Excel-Wireless.com, a leading electronic equipment manufacturer and retailer, announce s its new cable jumper assembly collection, including LMR195 cable assemblies, G58 cable assemblies, LMR 400 cable assemblies and more.
The new cable assemblies come with a high degree of flexibility, making them quite desirable for applications with repeated bending requirements. They are designed for both indoor and outdoor use.
The engineers of Excel-Wireless.com know that cable is a major product line with both coaxial and ethernet wired cable products in production. The business provides custom designs for its customers based on special requirements.
"Many people want to buy reliable products directly from manufacturers, which can help them save much money. As a popular manufacturer and supplier, we are here to help. We focus on the items of communication systems which can be applied in both wired and wireless industries. All our models are offered at competitive prices, and they can find on our website easily." The spokesman for Excel-Wireless.com says.
Along with able jumper assemblies, Excel-Wireless.com has a wide range of cell phone boosters and UHF antennas in stock. High quality products at affordable prices, honesty and a high standard of ethics have helped the business develop very fast in the past few years; many customers become return customers.
About Excel-Wireless.com
Excel-Wireless.com is a well-known supplier of cellular amplification and wireless communication systems with a focus on cell phone boosters. The business has many years of experience in the industry with a trackable record that it has cooperated with many companies, universities, military and government agencies and communities in all sizes around the world. For more details of the company and its products, please visit: http://www.excel-wireless.com/.