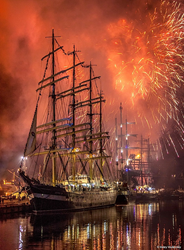 President Vladimir Putin said, "It is wonderful to see that this big competition and event has already become an established tradition that has withstood time and stormy seas."
Black Sea (PRWEB UK) 3 May 2014
Over 1000 crew members representing nine different nations from around the world will be taking part in the race, a challenging 450 nautical miles (approx.) route across the Black Sea which will take the fleet six days to complete. They will then cruise to Sochi, Russia and race in the final leg of the event to Constanta, Romania.
The event has attracted 29 vessels of nine nationalities - Bulgaria, Russia, Malta, Netherlands, Pakistan, Ukraine, Romania, Spain, Sweden, Turkey and the UK. With the Ukrainian crisis continuing to unfold, these ships have not been deterred from taking part in this inspirational event. These Tall Ships have united to promote international friendship and understanding and, with their participation, the SCF Black Sea Tall Ships Regatta will be a unique and spectacular event.
President Vladimir Putin said, "It is wonderful to see that this big competition and event has already become an established tradition that has withstood time and stormy seas. With every passing year this creative and genuinely beautiful project draws a greater number of talented, energetic and purposeful young people, who have chosen to make sailing their profession.
"The participants in this year's regatta have a long and difficult route ahead that will take them to different countries and cities and offer them interesting encounters. Most important of all, they will have the opportunity to demonstrate in practice knowledge and skills, be part of the legendary sailing fraternity and take another big step forward towards their dreams.
Robin Snouck-Hurgronje, Race Chairman, Sail Training International, said, "This remarkable event is also making its mark in the maritime history books. It's not only the first Tall Ship race in the Black Sea, but the first time the largest sail training ship in the world, Sedov (Russia) is sailing and racing with three other Russian ships - Mir, Kruzenshtern, Nadezhda."
International tall ship regattas have been held around the world since 1956. Soviet and Russian tall ships have been participating in the Races and Regattas since 1978.
The event is organised by Nobel Peace Prize nominee, Sail Training International, whose charitable aim is promoting international friendship and understanding.
The event is sponsored by Sovcomflot (SCF) - one of the world's largest shipping companies - the Regatta supports SCF's social responsibility to support young people in maritime professions and bolsters the interest for the maritime industry among Russia's youth.
Event and race dates:
Varna, Bulgaria Wednesday 30 April - Saturday 3 May
Race 1
Novorossiysk, Russia Friday 9 – Monday 12 May
Cruise-in-Company
Sochi, Russia Wednesday 14 – Sunday 18 May
Race 2
Constanta, Romania Saturday 24 – Tuesday 27 May

Photos and interview opportunities: Available on request
Editor's notes:
About Sovcomflot
Sovcomflot Group is Russia's largest shipping company and one of the world's leading energy transporters.
It is the lead sponsor of The SCF Black Sea Tall Ships Regatta, 30 April – 27 May 2014, and was previously sponsor of The Tall Ships Races 2009.
Its mission is to be the leading international energy shipping company, offering a full range of seaborne energy solutions to its customers, based on advanced shipping technologies and innovations, achieving long-term sustainability of growth and profits through a socially responsible industrial shipping model. The company's fleet specialises in hydrocarbon transportation from regions with challenging icy conditions and includes 158 vessels with a combined deadweight of over 12 million tonnes. A third of these vessels have a high ice class. SCF supports large-scale offshore energy projects in Russia and overseas. The company is registered in Saint Petersburg and has representative offices in Moscow, Novorossiysk, Murmansk, Vladivostok, Yuzhno-Sakhalinsk, London, Limassol, Madrid, Singapore and Dubai. http://www.scf-group.ru
About Sail Training International (STI)
STI is the international voice of Sail Training, a registered charity (not-for-profit organisation), which has worldwide membership and activities. Its purpose is the development and education of young people through the Sail Training experience, regardless of nationality, culture, religion, gender or social background. It organises the annual Tall Ships Races and other international Tall Ship sailing events. STI members are 29 national Sail Training organisations around the world and STI's head office is in Gosport, Hampshire, UK.
The organisation was nominated for the Nobel Peace Prize 2007 for its work in promoting international understanding and friendship. http://www.sailtraininginternational.org
What is sail training?
Sail Training is an adventure activity, which includes far more than sailing instruction. Participants are required to confront demanding challenges, both physical and emotional. It is an activity that inspires self-confidence and personal responsibility. It promotes an acceptance of others, whatever their social or cultural backgrounds, and develops a willingness to take controlled risks. Those who undertake Sail Training on Tall Ships generally find it a positive life-changing experience.
For more information about the event visit Sail Training International
For more information contact Sally Titmus, Media Director, Sail Training International, Charles House, Gosport Marina, Mumby Road, Gosport, Hampshire, UK PO12 1AH
Tel: +44 (0) 23 9258 6367 Email: sally(dot)titmus(at)sailtraininginternational(dot)org